Building a new house or remodeling an old one requires a lot of planning. Insulating your home is one of them. Plasti-Fab's Fanfold insulation is one of the reliable ways to do so.
I know a question pops up in your mind about whether Fanfold insulation is worth it or not, right?
Well, Fanfold insulation is designed to remain underlayment and separate your house's elements and the framing. Its primary purpose is to reduce air leakage and make your home energy efficient. Besides, you can also prevent moisture with it.
Here we will see different features and determine whether Fanfold is worthy enough to use in your home. Let's dive deeper.
Features of Fanfold Insulation
Every underlayment insulator comes with different features, although their primary purpose is the same. Here we will see what fanfold insulation has to offer. So, let's get right in.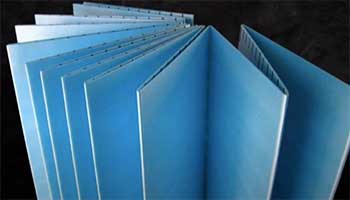 A product is known by the materials it is made from. High-quality materials result in a good quality product.
It's true for underlayment insulation in our home as well. Solid and durable build material will make it sturdy and long-lasting.
Fanfold insulating is a high-performance sheathing foam made of Type 1 polystyrene insulating core material. This material is lightweight, closed-cell, and durable.
Plus, it has a thin laminated film on both sides. Besides, you will get vertical and horizontal gridlines in the center.
A Well Balanced and Stable R-Value
R-value s the measurement of an insulation's ability to reduce heat under a specific condition. R-value in an insulator shows how well-performing that particular insulator is.
R-value for Fandfold depends on its thickness. For example, a ½ inch thick Fandfold provides a 2.27 T-value at 25° F. Similarly, you will get a 3.90 R-value at 25° F for ¼ inches thickness, 4.50 R-value at 25° F for 3/8 inches thickness, and so on.
Fanfold is designed to create insulation inside your building's wall and prevent heat from passing. But it will be easier to determine whether it's worth your penny when you know where you can use it.
Professionals and homeowners use Fanfold in residential and commercial buildings to create effective insulation and make your place energy efficient.
You can use Fanfold on interior walls, exterior walls, basement walls, siding underlayment, cavity walls, crawl spaces, gable ends, etc. You will get outstanding results no matter where you use it.
Water, Insect, and Mold Resistance
Although, Fanfold insulation's primary purpose is to create insulation against heat and temperature. But along with making your home energy-efficient, it also provides water resistance. No moisture can pass through your fanfold insulation sheets.
Besides, with an inert additive Fanfold eliminates termites and carpenter ants. Plus, it does not let any mold and mildew grow.
You will get multiple sizes for Fanfold insulation. While its performance depends on the thickness, you can choose between ½ inches, ¼ inches, 3/8 inches, and ¾ inches thickness.
Besides, the insulation sheet is available in 100 square feet and 200 square feet bundles.
Warranty is an essential part of a product. A longer warranty duration means your product will last a long time. And if something happens, you can always claim your warranty.
However, Fanfold is covered by a 20 years thermal performance warranty. So, now you know this product is designed to last.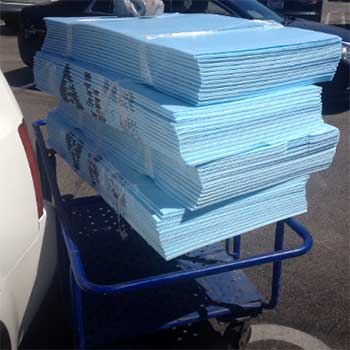 Finally, we are discussing the price. Insulating the home is an essential part of the building.
So, you should not cower in fear of spending money on it.
But the good news is that Fanfold is cost-effective and is less expensive than other insulation products.
A 3/8 inches thick 4 feet by 50 feet Fanfold will cost about $53. A ½ inches thick 200 square feet fanfold will cost around $75.
As you can see, fanfold insulation in every size is cheaper than other similar products.
What Could Have Been Better?
With all those superior features, you might think there is no limitation of Fanfold insulation. But that's not true. Like every other product, it also comes with some limitations. Here we will see some cons of Fanfold insulation.
Having more size options will be beneficial for a lot of people. Currently, Fanfold is available in 2 feet by 50 feet and 4 feet by 50 feet sizes. But going to bigger sizes will have some added benefits.
The R-value in different thicknesses of Fanfolds is already higher. But some other insulation options provide even higher R-value. So, further improvement is quite possible.
With an even higher R-value, you will have a better energy-efficient home. So, your electricity consumption on climate control will reduce drastically, and you can save a lot of money.
Frequently Asked Question (FAQ)
What is the purpose of fanfold insulation?
Fanfold insulation is made of lightweight and durable polystyrene foam. The primary purpose of this product is to create insulation for temperature and make your home energy efficient. You will have to use it on the exterior.
What is the R value of fan-fold insulation?
R-value tells us the energy efficiency performance of Fanfold insulation. You will get a 2.27 R-value at 25° F for ½ inches fanfold and 3.90 at 25° F for ¼ inches insulation.
Is fanfold breathable?
Fanfold is made from type 1 plastic polystyrene foam. As a result, this film facers not breathable. However, Fanfold protects against moisture, insects, and molds.
Is fanfold an insulation?
Yes, Fanfold provides insulation for residential and commercial buildings. It is applied on the exterior of a building and offers excellent sealing against temperature. You can make your home wholly insulated with it.
Final Thoughts
Insulating your house is one of the most important things you should consider while remodeling your home or building a new one. Choosing a substandard product will cost you a lot of money in the long run.
A lot of contractors and homeowners wonder, is Fanfold insulation worth it?
I hope you got a clear answer from my review. While it has a few cons, it is worth every penny.