When searching for a stylish yet comfortable sectional, two popular brands often come to mind – Interior Define and West Elm. Both offer customizable, high quality sectionals but have key differences that may make one a better fit for your home than the other.
This comprehensive guide will compare Interior Define and West Elm sectionals to help you determine the best option for your needs and style.
A Brief Comparison Table
| | | |
| --- | --- | --- |
| Feature | Interior Define | West Elm |
| Customization | Fully customizable – fabric, size, shape, fill, legs, etc | Pre-set options only |
| Quality | High-end materials like kiln-dried hardwood and down fill | Lower quality foam fill and thinner fabrics |
| Comfort | Exceptional comfort from cushions and supports | Style prioritized over maximum comfort |
| Price | $2,000 – $5,000+ for custom sectional | $1,000 – $3,500 for stock sectionals |
| Lead Time | 6-8 weeks for made-to-order | 1-2 weeks for in-stock |
| Style | Contemporary, modern, transitional | Mid-century modern primarily |
| Customer Service | White glove delivery and lifetime warranty | Mixed reviews on post-purchase service |
| Sustainability | Sustainably sourced woods, recycled steel | Responsible sourcing initiatives |
Overview of Interior Define
Interior Define specializes in custom upholstered furniture that is made to order in the USA. They allow you to completely customize your sectional by selecting the exact fabric, size, configuration and more.
Some key things to know about Interior Define sectionals: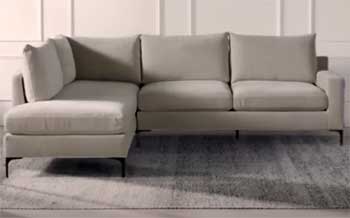 Highly customizable – choose from various shapes, sizes, configurations, leg styles, and hundreds of fabric options. You can make it as unique as you want.
Medium to high price point – due to the custom options and quality materials, expect to pay more than mass-produced furniture. However, you get excellent value for a custom-made piece.
Longer lead times – sectionals are made to order so expect to wait 6 – 8 weeks for delivery. This allows them to provide top-notch quality control.
Great for contemporary, modern style homes with clean lines and customizable options.
Strong focus on customer service and satisfaction. They back their products with a lifetime warranty and allow for returns/exchanges within 30 days for a quality issue.
Overview of West Elm
West Elm is a popular home furnishings retailer owned by Williams-Sonoma. They offer a wide range of stylish, mid-century modern and contemporary furniture.
Some key things to know about West Elm sectionals:
Trendy, mid-century modern style – their sectionals feature sleek silhouettes, tapered legs, and modern fabrics. Not as customizable as Interior Define.
Lower to mid price range – more affordable than Interior Define but pricier than budget furniture brands. Sales run frequently.
Faster shipping times – West Elm keeps items stocked in warehouses so delivery typically takes 1-2 weeks.
Part of a complete living room package – can match sectionals with West Elm tables, rugs, lighting, and decor for a cohesive look.
Large selection of pre-made options – no customization but dozens of set sectional configurations to choose from.
Known for being style over comfort – silhouette and design are prioritized sometimes over cushion comfort.
Key Differences Between Interior Define And West Elm Sectionals

Now that we've covered the key characteristics of each brand, let's do a detailed comparison of important factors in choosing a sectional.
Customization and Styles
One of the biggest differences between Interior Define and West Elm is customizability. Interior Define sectionals are completely customizable – you select the exact dimensions, shape, configuration, leg style, fabric, and cushions for an entirely custom piece. This leads to unlimited options for creating a sectional exactly the way you want.
Interior Define's custom options make them perfect for:
Fitting a uniquely shaped living room – don't settle for a sectional that "almost" fits, make it exactly to your room's dimensions.
Achieving a very specific look – customize every little detail like tapered wood legs, contrast piping, and cushion buttons.
Trying unique configurations – do a large circular sectional, add chaises, combine various pieces, and more.
Finding the perfect fabric – Interior Define has hundreds of on-trend, high-quality options from velvet to performance fabrics.
On the other hand, West Elm sectionals have set configurations and styles to choose from. They offer around 20-30 different sectional options with pre-determined shapes, sizes, and looks.
While not as customizable, West Elm sectionals are great if you:
Like West Elm's signature mid-century modern style – all their sectionals have clean lines and tapered legs for a consistent look.
Don't want to customize – some shoppers find too many options overwhelming. West Elm simplifies the process.
Need a faster turnaround – their stock options ship within a week or two.
Quality and Comfort
When investing in new furniture, you want it to last while providing exceptional comfort. How do Interior Define and West Elm compare in these important categories?
Interior Define is known for outstanding quality and comfort. Their made-to-order process allows maximum quality control and use of high-end materials like kiln-dried hardwood frames, down feather cushions, and durable fabrics. Expect it to hold up beautifully for years to come.
Specific comfort features include:
Cushions made with high-resiliency foam and feather down wraps for softness.
Reinforced joinery with corner blocks for stability and structure.
Lifetime warranty covers frame, joints, cushions and fabric from defects.
West Elm sectionals tend to prioritize style over comfort. They look gorgeous with sleek tapered legs and modern fabrics, but some reviewers find them uncomfortable for long term lounging. This varies by specific model but is something to watch out for.
Things to note with West Elm comfort:
Cushions are often filled just with poly-foam rather than down-feather options. Can feel harder and flatten over time.
Most models do not have power reclining functions – something to consider if wanting to recline.
Check reviews of specific options – some are more comfortable than others and they vary by fabric.
Only 1 year limited warranty compared to lifetime from Interior Define.
If your top priority is a supremely comfortable place to curl up for hours, Interior Define is likely the better choice. But if you prefer the style over maximized comfort, West Elm has very attractive options. Try out showroom models of each when possible.
Price and Value
Given the custom-made quality and USA construction, Interior Define sectionals come at a higher price point. Their sectionals typically range from $2,000 for a small 2-seater up to $5,000+ for a large section with chaise.
However, the high-end materials and lifetime guarantee offer excellent value for a custom piece designed to your specifications. Interior Define runs sales a few times per year to help offset costs.
West Elm sectionals range from $1,000 on the low end up to around $3,500 for larger versions, putting them at an affordable to moderate price point. Their frequent sales and promotions can drop prices 20-25% or more.
The lower cost matches their positioning as trendy, mid-range furniture. Some compromises on long-term durability and comfort account for the more affordable pricing. You get lovely style for the money but it is not an heirloom piece.
Both offer reasonable value depending on your budget and priorities. Interior Define costs more upfront but saves money over time through durability and warranty coverage. West Elm is budget-friendlier if wanting to minimize initial investment while refreshing your style more often.
Lead Times and Availability
One of the drawbacks of Interior Define's custom-made process is longer lead times. Expect to wait 6 to 8 weeks from order to delivery. However, your piece is carefully crafted to order in their US-based manufacturing facility. No mass warehouse storage here!
Meanwhile, West Elm sectionals ship fast – usually within 1-2 weeks depending on location. Their stocked inventory model allows quick shipping direct to homes. Great if you need a piece ASAP or hate waiting for deliveries.
For Instant Gratification: West Elm For Perfect Customization: Interior Define
Check the estimated ship times when ordering and factor it into your decision timeline. Interior Define's longer lead time is a small price to pay for a truly one-of-a-kind sectional.
In-Home Support and Customer Service
Given the size and investment involved with sectionals, brand reputation for customer service is key.
Interior Define shines when it comes to service. They offer White Glove Delivery as standard, bringing your item inside and assembling in the room. Their Design Team can provide free 3D renderings and floor plans to ensure a perfect fit.
The 30-day quality guarantee allows returns/exchanges for any defects during that period – avoiding frustration if an issue arises. And the lifetime warranty provides ongoing support.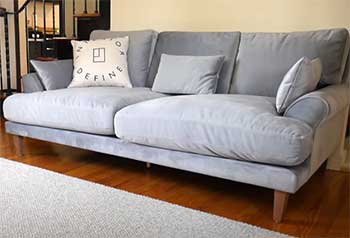 West Elm service is mixed. Some shoppers report frustrating issues trying to resolve delivery delays, damage claims, and customer support challenges.
But when things go smoothly, the in-store and online process is simple.
Interior Define's superior service gives confidence in investing in one of their pieces.
They back their quality at every step, while West Elm is less consistent. Check recent customer reviews of how each is currently handling service concerns.
Environmental Sustainability
Eco-conscious shoppers will also appreciate that Interior Define sectionals use sustainably sourced American hardwoods and recycled steel. Their products meet CARB air quality standards for healthy indoor air. The brand is working towards reducing waste and energy usage in their manufacturing process.
West Elm emphasizes their commitment to responsible sourcing and production. Their wood furniture comes from FSC certified sustainable forests. And they monitor supply chains for ethical treatment. However, most manufacturing is done overseas.
Both brands are making solid strides towards more sustainable furniture, but Interior Define's US-based production and recycled/renewable materials edge them slightly ahead in this arena.
Frequently Asked Questions (FAQ)
Is Room and Board more expensive than West Elm?
Yes, generally Room and Board is a more expensive brand than West Elm. Room and Board sectionals range from $2,000 on the low end up to $7,000 or more for large custom pieces. Their quality and materials justify the higher prices. West Elm hits an affordable to moderate price range, topping out around $3,500 for sectionals.
What style is West Elm considered?
West Elm's style is generally categorized as mid-century modern with some contemporary and bohemian flair mixed in. Their sectionals and furniture feature clean lines, tapered legs, woven materials, natural textured fabrics and other hallmarks of minimalist Scandinavian-inspired modernism. This makes them an ideal fit for contemporary spaces.
How long does Interior Define take?
Interior Define sectionals are made-to-order so have a longer production timeline than in-stock options. You can expect your custom sectional to take approximately 6 to 8 weeks from order placement to delivery. This accounts for customization, careful manufacturing and shipping transit time. The longer wait is worth it for a beautifully crafted sectional designed specifically to your space and style preferences.
What is happening at Interior Define?
Interior Define is not going out of business or closing. However, in 2022 they were acquired by the furniture company Floyd. This raised some questions about potential changes happening to the Interior Define brand under new ownership. Floyd has stated they plan to preserve the Interior Define custom model and offerings. However, some scaling back of swatch and fabric options has occurred. Further adjustments may follow as part of the brand transition, but core custom services remain intact. Customers can still place orders and expect delivery of Interior Define sectionals as normal during this acquisition process. Any substantial changes will likely be gradual rather than immediate.
The Bottom Line
When choosing between Interior Define and West Elm sectionals, consider your priorities. Interior Define is best for total customization given their made-to-order process. Expect incredible quality, comfort and service from their sectionals.
West Elm excels at speedy shipping for instant style at attractive prices. Their sectionals sacrifice some comfort for sleek aesthetics.
Ideally, try both brand's sectionals in person when making this major investment. And measure your space carefully to determine sizing needs. With sectionals ranging around $2,000 on average and up, take your time deciding.
But rest assured both Interior Define and West Elm offer trendy, modern options that make fabulous additions to contemporary homes.