Are you looking for the best organic soil amendment solution between Humic DG and HumiChar?
If so, you are in the right place. Because here I will give you a better understanding of these two soil amendment products. Read my comparison between Humic DG and HumiChar review to know more.
The main difference between these two soil amendment products is that Humic DG increases carbon and organic matters in the soil. In contrast, HumiChar improves soil health and reduces the use of fertilizers. They have differences in their formation too.
This article will show you detailed features of both products and compare them. You can easily decide which one will be the best use for you in the end. So, let's get going.
A Quick Comparison Table
Here is a quick comparison table between Humic DG and HumiChar organic soil amendment:
| | | |
| --- | --- | --- |
| Aspects | Humic DG | HumiChar |
| Product Type | Highly Concentrated Soil Amendment | Soil Amendment |
| Special Feature | Contains Four Active Biological Components | Has Two Components In Its Formula |
| Benefits | Offers Many Benefits | Offers Fewer Benefits |
| Usage | A lot of Usages | A lot of Usages |
| Available Sizes | 11 lbs., 40 lbs. | 12 lbs., 40 lbs. |
In-Depth Comparison Between Humic DG And HumiChar
You have drawn some basic ideas on these products from my above comparison table. But to make e decisive decision, you need to know every nitty-gritty of both solutions.
Stick with me here because I'll show them here in detail.
Humid DG and HumiChar are carbon-based organic soil amendment formulas made by the same company.
They are designed to serve similar purposes. Nevertheless, there are some subtle differences between them.
Humid DG is highly concentrated and contains 70% fulvic acid, humic acid, and humin in its formula. It is a Dispersible Granule or DG formula made under the Andersons' patent.
On the other hand, HumiChar contains 50% superior humic acid and 50% granulated biochar. The combination provides a quick and excellent response in soil treatment. But, HumiChar is also made under the DG formula, allowing it to disperse when watered.
So, HumiChar is a lot different than Milorganite too in this regard.
Humic DG contains four active biological components. They are fulvic acid, humic acid, humin, and HAP. It helps plants take nutrients, increases soil carbon level, seed germination, etc., to increase soil and plant health.
Besides, Humic DG chelates nutrients and make them available for a longer time for soil and plants. You can use it with fertilizer, or you can use it alone.
On the contrary, HumiChar has two components in its formula: 50% high-quality humic acid and 50% granulated biochar. These elements help the procedure remain longer and in the soil and make it better in the long run.
On top of that, you can use fertilizer after or with HumiChar, but it's not mandatory. Besides, this solution is environmentally friendly.
You can improve soil structure in all soil types and make them drought tolerant. Using the formula will help increase the nutrient intake capacity by making them readily available for plants.
Besides, it enhances the efficiency of fertilizers. Because of the high concentration of minerals and organic acid, you can increase the carbon and minerals in soil by using this formula.
On top of that, it is easy to spread, and it won't harm or burn your lawn.
In contrast, HumiChar is easy to use. It makes nutrients readily available for plants. You can quickly amend the soil and keep it that way for a long time.
Although both products are made for similar purposes, they work better in a few similar places and some different areas.
For example, Humic DG works excellently on turf, gardens and flower beds, trees and shrubs, and potting soils. On the contrary, HumiChar works better when you use it for old establish laws, new lawns and sods, garden and landscape beds, etc.
Humic DG is available in two size packs. You can choose between a smaller 11 lbs. bag and a much larger 40 lbs. bag. In contrast to Humic DG, HumiChar is also available in two sizes. A 12 lbs. bag and a 40 lbs. bag are available to purchase.
Both formulas can cover up to 40,000 square feet of soil when appropriately applied.
An 11-pound Humic DG costs $32.88, whereas a 40-pound bag costs $69.88. But a 12-pound HumiChar costs $31.88, and a 40-pound bag costs $90.88.
As we can see, Humic DG costs slightly higher when you purchase the smaller bag. But HumiChar costs significantly higher when you buy a big-size bag.
As both products belong to the same company, the warranty will be the same for them. You will get 4 years of warranty for both products. However, you have to contact them to know more about warranty terms directly.
Which One is Best For You?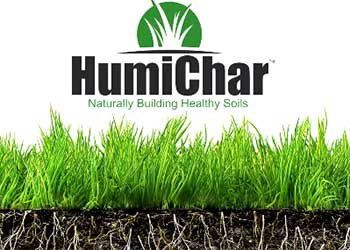 My above discussion clearly shows that both Humic DG and HumiChar provide excellent results in soil amendment.
So, you can become a little confused about choosing one. You should choose one based on the usage.
First, determine where you will use this product. I have discussed which product is best for what place.
Use them accordingly.
Frequently Asked Question (FAQ)             
What's the difference between Humichar and biochar?
HumiChar is biochar that can be easily spread on a lawn with a lawn spreader. After spreading, it reaches the surface soil very fast and starts working.
What is humic DG?
Humic DG is an organic carbon-based soil amendment solution made from fulvic acid, humic acid, and humin.
Is Humichar humic acid?
HumiChar is made from two components, and humic acid is one of them. There is 50% humic acid in HumiChar.
Is humic DG a fertilizer?
Humic DG is not a fertilizer. It is a carbon-based soil amendment that can work with fertilizer. Using it can reduce the use of fertilizer.
Conclusion
Humic DG and HumiChar can heal your soil and make your plants healthy. Using them on your lawn will have a lot of benefits. After reading my Humic DG vs. HumiChar review, I'm sure it's absolutely clear to you.
Now that you're aware of the differences between both products, I'm sure you can choose one that will fit your project.