There is a ton of competing information on which blown-in insulation is better: Cellulose or fiberglass. As both can be installed into attics and existing walls without major demolition, the choice is thought.
Between GreenFiber and AttiCat, there are significant differences between the composition, price, and installation requirements.
So if you are a homeowner who needs to make the call between AttiCat and GreenFiber, keep reading.
A Quick Comparison Table
We will talk about the differences between the two blown-in insulations in a second but let's start with the brief comparisons first.
| | | |
| --- | --- | --- |
| Specifications | GreenFiber | AttiCat |
| Safety | Class 1A fire rating, 2 to 3 times thicker than AttiCat | Non-combustible, non-corrosive, doesn't promote mold growth |
| Energy Consumption | Save up to 25% | Save up to 20% |
| Installation | No need for fitting and cutting  | Releases and expands fully within the blower |
| Price | Around $11.48/package | Around $29.68/package |
Key Differences Between GreenFiber And AttiCat Blown-In Insulation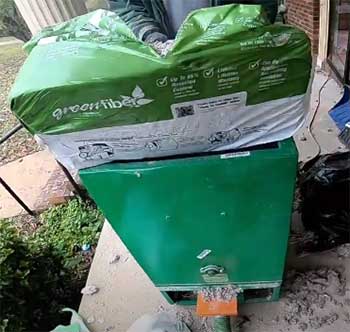 GreenFiber has a Class 1A fire rating due to the inclusion of active fire-retardant materials in the product.
Therefore, it is 57% better at preventing fires than other kinds of residential insulation.
Plus, by its nature, it is 2 to 3 times thicker than fiberglass and passes as high-quality fire-resistant material.
According to the company, GreenFiber lasted more than twice as much as fiberglass batts in a large-scale fire experiment.
AttiCat offers total coverage for your house, even around outlets, pipes, and wires. It is non-combustible, meeting all national building codes on the matter.
Another safety feature of AttiCat includes non-corrosiveness. It doesn't need fire-resisting chemicals that can seep out, or promote pipe or electrical equipment corrosion. Inorganic glass fibers prevent mold or fungus growth too so this will not decay.
Moreover, it won't absorb moisture. Insulation effectiveness is greatly reduced by moisture and glass fibers don't promote moisture accumulation.
Homes that are over 10 to 15 years of age might not be well-insulated. This can cause huge energy loss – particularly from your attic. A well-insulated house may drastically lower your annual electricity expenditures.
GreenFiber will maintain warmth inside your home in winter and keep you cool in the summer, whether used on floors, walls, ceilings, or the attic.
Made to adjust temperature across rooms, GreenFiber can reduce cooling and costs by as much as 25% when installed in outer walls.
Designed to regulate temperature room by room, when installed in exterior walls, GreenFiber can also reduce heating and cooling costs by up to 25%.
AttiCat promises up to 20% savings on home cooling and heating costs by air sealing and insulating. However, the amount will vary based on your weather conditions and location.
Apart from that, you stand to earn a 10% tax credit amounting to a maximum of $500.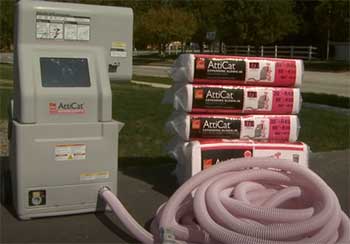 As GreenFiber can be blown-in, the process doesn't call for fitting and cutting.
Furthermore, it can be blown into tight, small spaces and provide wider coverage.
You can apply it straight over the former insulation.
The GreenFiber bags are easy to handle and can be broken up easily to load into the blowers.
You can rent the blowers from a GreenFiber retailer nearby.
On the other hand, AttiCat insulation can cover an entire 1,000 sq. ft. attic in under 1.5 hours – given you use the R-30. The product releases and expands fully within the blower.
It further conditions through the hose's length as the insulation covers the attic space, breaking up and fluffing up to form millions of small air pockets to provide insulation power to the material.
We enjoy how easy clean-up is with this product since the machine does all the work. The low-dust system is another added bonus.
Currently, the price for GreenFiber Blown-In Cellulose Insulation is $11.48 whereas the AttiCat Fiberglass Expanding Blown-In Insulation System retails for $29.68.
From this, it seems as though AttiCat is much more expensive than its cellulose counterpart, but there is an interesting catch.
You need way more cellulose to cover a space than you do fiberglass since the latter is compressed. The statistics get even worse when we talk about walls.
Assuming you have a 1,000 sq. ft. attic you wish to insulate by incorporating some extra R-30. You will require 44 packages of GreenFiber R-30 for the job and 16 packages of AttiCat R-30.
Calculating that against the price of each product per packet, the total for GreenFiber stands at $505.12 and for AttiCat, it is $474.88.
So, you are saving $30.24 by using the seemingly pricier option which is 5.99% in savings. Similar measurements apply for GreenFiber R-38 and AttiCat R-38 as well as GreenFiber R-49 and AttiCat R-49.
The costs mentioned above solely reflect the insulation cost. You can avail of a free 24-hour blower rental on the purchase of 10 bags of AttiCat or 20 bags of GreenFiber.
You will have to rent a trunk for either but for GreenFiber the number of packages is also higher so you may need a bigger truck too.
Cellulose insulation is pricier when it comes to insulating existing walls. For blowing into existing walls, the work has to be done at a higher density than for attic works.
This applies for both fiberglass and cellulose but the former only requires twice the amount while you will need thrice the amount with cellulose.
With AttiCat you can also add a bit more to increase the R-15 insulation score. 
Fiberglass insulation settles significantly less than cellulose so you have to pack cellulose in. This is why it takes less fiberglass to get the job done than cellulose.
Which Blown-In Insulation Is Better for You?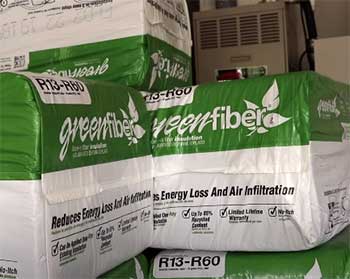 It depends on the usage situation. Fiberglass is cheaper and offers good insulation.
However, it is itchy. In contrast, cellulose is borate-treated which makes it fire-resistant as well as mold and pest-resistant. 
But it can also be thrice as heavy as its fiberglass counterpart which can pose a challenge in some structures and if not blown into the right density it could slump over time, creating an uninsulated gap at the apex of the wall crevice. 
If you reside in a colder climate, either AttiCat or GreenFiber will be better than having walls or an attic without insulation. DIYers can easily install both these insulation methods after reading the instructions properly.
For R-30 insulation for attics, the prices start similar but with more costs, you realize you save more with AttiCat. You can save as much as 30% with that versus GreenFiber; not to mention needing about ⅓ as many insulation packages. Although similar in size, GreenFiber is lighter.
Frequently Asked Questions (FAQs)
Here are a few frequently asked questions about the two brands.
What is AttiCat?
AttiCat is a pink expanding fiberglass made for attic insulation projects in existing or new homes.
Is AttiCat insulation itchy?
Customers say that the insulation isn't itchy but still recommend the use of masks and gloves when installing it.
Which is better blown-in cellulose or fiberglass?
In Northern climates, cellulose is better as fiberglass loses half its R-value in that condition. The answer is situational.
Which is better blown-in insulation or rolled?
Rolled insulation is more efficient as blown-in insulation requires a machine as well as a worker.
Conclusion
That was all the relevant information on GreenFiber vs. AttiCat. We hope this will help you make a better decision about your home insulation. As can be gauged from the features of the products, there is no one set answer to which is better. 
Consider your budget as well as climate conditions before picking. Happy shopping!