GE Café and KitchenAid appliances are two of the most prominent players in the kitchen appliance industry. Though both brands offer high-quality products, the main difference between them comes down to the design aesthetics and product variety provided by both brands.
Kitchen appliances are crucial for your basic kitchen setup; everyone wants durable and reliable appliances. Below I have compared GE Café and KitchenAid appliances are discussed their differences to figure out the best band for you.
So, without further ado, let's start.
A Quick Comparison Table
Before we head into the detail, I have described the differences between GE Café and KitchenAid in the table below. Let's have a look.
| | | |
| --- | --- | --- |
| Specifications | GE Café | KitchenAid Appliances |
| Product Variation | Major appliances | Countertop appliances | Cleaning machines | Coffee and espresso machines | Mixer and blenders | Major appliances | Water filters | Countertop appliances |
| Design and aesthetic | More colors and design options | Fewer design options |
| Performance | Flagship performance | Decent performance |
| Durability | More durable | Optimum durability |
| Special lineups and Collection | Yes | No |
| Cost | Expensive | Comparatively cheaper |
| Warranty | 1 to 10 years, depending on the appliance and parts | Two years to a lifetime warranty depending on the appliance and the parts |
Key Differences Between GE Café And KitchenAid Appliances
Now that you know the differences between various aspects let's discuss them in detail. The discussion below will clear out any confusion you have about both brands.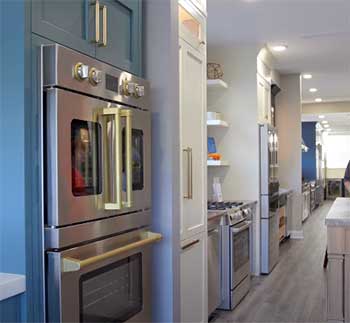 Product variation has a significant effect on the purchase decision of a customer.
More options mean more chances for customers to pick a brand. In that regard, GE Café and KitchenAid have a wide range of appliances and machines for their customers.
While both brands manufacture categories like major appliances and tabletop appliances, others are exclusive to one brand in this comparison.
For example, only GE Café manufactures express and coffee machines, while KitchenAid only makes water filters.
Appliances are considered the heartbeat of the kitchen. So, what type of appliances you choose and how they look can entirely change the loom and layout of the kitchen.
Alongside the functionality and affordability, the design and style of the appliances are a concern for many.
In that regard, GE Café offers more variety in aesthetic department design. Café is famous for its custom handles and unique colors compared to other GE lineups.
On the other hand, KitchenAid has a somewhat conventional approach offering minimum design options.
In this segment, voting for one brand is a little tricky. However, after extensive research and user feedback, GE Café seems to be a little ahead of KitchenAid in terms of performance. The popularity of GE Café and the rating from customers proves that point.
On the other hand, KitchenAid also has customer satisfaction under their bet. However, customers have complained about KitchenAid products in specific categories and price ranges.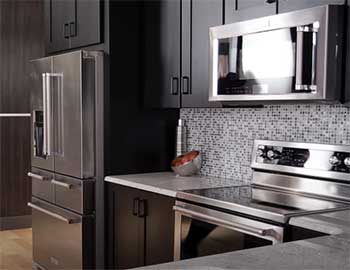 The appliances' durability and longevity are vital considerations for customers when choosing the appliance brand.
No one plans to invest in appliances daily, and GE Café seems more reliable and long-lasting in most product categories.
You should expect the same quality and lifespan from GE Café appliances from other top brands like Samsung or Whirlpool.
On the other hand, KitchenAid appliances are by no means low quality or not durable enough to serve your purpose.
However, in the long run, their products lose their edge in terms of durability.
Special Lineups And Collection
Every brand, regardless of genre, can have some unique lineup or Collection to showcase special products. Only GE Café offers this benefit for their customers between our two brands.
If you are looking for a more sophisticated approach to kitchen appliances and looking for custom finishes and hardware, GE Café is the best choice. Unfortunately, KitchenAid appliances don't seem to offer anything similar to customize their products. 
When it comes to kitchen appliances, for some people, it's entirely about functionality and getting the job done. However, some people want the brand's recognition regardless of the price tag.
Regarding the cost departed, GE Café has higher price tags on average in most product categories. Even the price may seem a little unjustified in some cases.
On the other hand, KitchenAid focuses more on providing customers with value for their money. So, if you are someone who doesn't want to break the bank, KitchenAid is the best choice.
The last factor we will discuss is the warranties provided by both brands. Appliances are long-term investments, and warranties ensure your investment is secured.
Though different product category has different warranty periods, you can get a general idea if we look at the overall scenario.
Despite the higher price, GE Café seems to shy away in terms of warranty ranging from one year to ten years. On the other hand, KitchenAid appliances have a warranty from two years to a lifetime warranty.
Which One Will Be The Best Fit For Your House?
As you have seen, both brands have their strength and weaknesses in various sectors. So, the answer to this question comes down to you and which sector you prioritize more in your appliances.
If your priority is design, customization, and slightly better performance, regardless of the money, then GE Café is for you. On the other hand, KitchenAid should be your brand of choice if you want raw functionality and the best value for your money.
Frequently Asked Question (FAQ)
Is GE Cafe considered high-end?
GE Café is one of the USA's most sophisticated kitchen appliance brands. Regarding market share and revenue, GE Café is only behind Samsung as one of the industry's high-end brands. For the last 117 years, it has been manufacturing superior-quality appliances and established itself as a high-end brand.
Are KitchenAid and GE the same?
No, KitchenAid and GE Café are two different brands from separate groups. KitchenAid is a part of Whirlpool Corporation, which acquired it in 1986. On the other hand, GE Café is a part of GE appliances Canada.
Is KitchenAid considered high-end?
One of the best things about Kitchen Aid is that it has many product variations for every type of customer. KitchenAid has your back with high-end products if you have the budget and are looking for premium appliances. At the same time, some products will allow you to enjoy the goodness of KitchenAid without breaking the bank.
Is GE Cafe or profile better?
There is no better option if we try to compare the GE Café and the Profile lineup. Both lineups are distinct and have separate characteristics to attract customers. For example, the profile series focuses on innovation to improve performance, while the Café series has unique designs and colors.
Final Words
That's a wrap for today. I hope my comparison between GE Cafe and KitchenAid Appliances will help you get a good insight into these two brands. Once you buy, these appliances are supposed to be part of your daily routine, so picking the right brand is very important.
GE Café and KitchenAid appliances are significant in terms of innovation and efficiency. You have to get your personal preference straight and pick the brand that suits you.