When it comes to keeping wood furniture looking its best, using a quality furniture polish is a must. But with so many options on the market, it can be tricky to decide which brand to choose. Two of the most popular furniture polishes are Favor Furniture Polish and Pledge Furniture Polish.
Both offer great cleaning power, shine, and protection. But how do you know which one is right for your furniture?
In this comprehensive guide, we'll compare Favor and Pledge side-by-side. We'll break down the key features, pros and cons of each polish. Read on to find out which furniture polish comes out on top!
A Brief Comparison Table
| | | |
| --- | --- | --- |
| Feature | Favor Furniture Polish | Pledge Furniture Polish |
| Ingredients | Natural oils like orange oil | Synthetic acrylic polymers and waxes |
| Shine Level | Low-key natural shine | High gloss wet look |
| Fragrance | Fresh lemon scent | Light clean fragrance |
| Surfaces Used On | Finished wood, laminate, marble, leather, more | Finished wood, laminate, metals, appliances, more |
| Food Safe When Dry | Yes | No |
| Price Point | Budget-friendly | Slightly more expensive |
| Durability of Shine | Lower durability, more frequent reapplication needed | High durability, lasts months between coats |
| Buildup Over Time | Minimal buildup | Can leave waxy residue buildup |
| Ideal Furniture Types | Natural wood pieces | Laminate, painted, metal furniture |
| Eco-Friendliness | More plant-based ingredients, low VOCs | Harsher chemicals and VOCs |
Overview of Favor Furniture Polish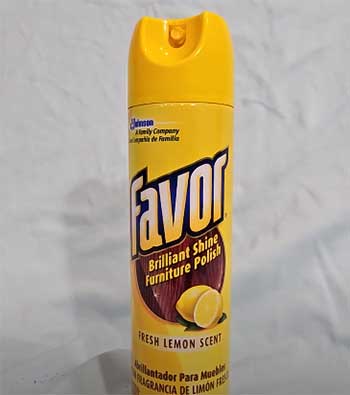 Favor Furniture Polish has been around since the early 1900s.
It's made by the Faultless Starch/Bon Ami Company, which has over 100 years of experience making cleaning products.
Favor comes in a few different formulas. There's an aerosol spray, a liquid polish, and wipes.
The aerosol spray is the most popular format.
It's known for its lemon fragrance and ability to clean, polish, and dust all in one easy step.
Some key features of Favor Furniture Polish:
Cleans, polishes, and dusts wood furniture
Leaves a streak-free shine
Lemon scent
Available as a spray, liquid, or wipes
Contains natural oils like orange oil
Food-safe formula once dried
Can be used on wood, laminate, marble, and more
Overview of Pledge Furniture Polish
Pledge is one of the most widely used furniture polishes today. It's made by S. C. Johnson, another major brand in cleaning supplies.
Pledge Furniture Polish comes in both aerosol and liquid formats. It has a light clean scent. The formula contains a wax blend to leave furniture with a protective coat and glossy look.
Here are some key features of Pledge Furniture Polish:
Cleans away dirt, dust, and fingerprints
Leaves behind a glossy, waxy shine
Light clean fragrance
Spray or liquid options
Contains a blend of waxes and acrylic
Safe for finished wood, granite, leather, and more
Protective coating helps repel dust
Now that we've covered the basic features of each polish, let's compare them head-to-head.
Key Differences Between Favor And Pledge
While Favor and Pledge are both great furniture polishes, there are some differences between the two: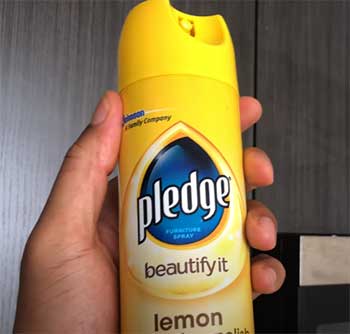 Ingredients: Favor contains more natural oils like orange oil, while Pledge relies more on synthetic waxes and acrylic polymers. Favor has a plant-based formula.
Shine level: Pledge leaves behind more of a glossy, waxy shine than Favor. The acrylic polymers in Pledge allow it to create a thicker protective coating.
Fragrance: Favor has a fresh, lemon scent while Pledge has a lighter clean fragrance. It comes down to personal preference.
Safety: The Favor formula is food-safe once dried. Pledge is not recommended for use on surfaces that come in contact with food.
Use on different materials: Both can be used on finished wood, laminate, marble, leather, granite, and more. Pledge can also be used on metals and appliances.
Price: Favor Furniture Polish tends to be a little more affordable than Pledge.
As you can see, there are some noticeable differences between the two brands. Keep these in mind as we get into the pros and cons of each.
Favor Furniture Polish Pros
Now, let's dive into the specific advantages of using Favor Furniture Polish:
Contains natural oils: The orange oil and other plant-based ingredients allow Favor to condition and nourish wood furniture. This helps maintain the natural beauty of the wood.
Leaves a streak-free shine: Customers praise Favor for leaving their furniture glowing without any streaks or residue buildup.
Pleasant lemon scent: If you like citrus scents, the lemon fragrance of Favor can make cleaning day more enjoyable.
Can be used on a variety of surfaces: Favor can tackle wood, laminate, marble, leather, and more. You can use it all around the house.
Doesn't leave surfaces greasy: The lightweight formula won't leave behind a heavy waxy coating like some polishes.
Food-safe once dried: You don't have to worry about chemicals transferring to food after the polish dries.
Affordable price point: Favor Furniture Polish offers great value, coming in at a budget-friendly price.
Trusted brand: With over 100 years of experience making cleaners, Favor has earned a reputation for quality.
Favor Furniture Polish Cons
No product is perfect. Here are a few potential downsides of using Favor Polish:
Not as glossy as some polishes: If you want an ultra-glossy shine, Favor may not provide quite as much luster as acrylic/wax-based polishes.
Spray nozzle can clog: Some customers report issues with the aerosol spray nozzle getting blocked up over time.
Can streak if overapplied: Applying too much Favor at once can lead to streaking. Light, even coats work best.
Not ideal for antique finishes: The formula may be too harsh for extremely delicate antique furniture finishes.
Strong lemon scent: Those who don't like citrus smells may find the lemon fragrance overpowering.
Durability of shine: While it leaves a beautiful initial shine, Favor's polish may need reapplying more frequently than wax-based products.
Pledge Furniture Polish Pros
What are the best reasons to choose Pledge Furniture Polish? Here are the top advantages:
Deep, glossy shine: The acrylic polymers allow Pledge to leave behind more of a wet-look shine than many natural oil polishes.
Dust resistant: The waxy coating helps repel dust so surfaces stay cleaner longer between polishing.
Easy-to-use spray: The continuous spray nozzle makes it simple to apply an even coat without overspraying.
Dries fast: Pledge dries quickly without any stickiness or residue left behind.
Light clean scent: If you're sensitive to scents, Pledge has a mild, inoffensive odor.
High durability: Pledge's acrylic coating holds up well and can last months between reapplication.
Great for appliances/metals: Pledge can be used to polish up stainless steel and chrome appliances.
Trusted brand: With Pledge, you can be confident you're getting a quality product.
Pledge Furniture Polish Cons
Pledge Furniture Polish also comes with a few potential drawbacks:
Higher price point: Pledge tends to cost a little more than natural oil polishes like Favor. The difference isn't huge though.
Leaves a waxy buildup: Over time, layers of acrylic can build up leaving thick residue.
Not food safe: Pledge contains chemicals so you don't want to use it on dining tables or surfaces that come in contact with food.
Can feel greasy: Pledge leaves more of an oily, slippery feel than lighter polishes.
Strong chemical odor: Some people find the chemical fragrance of Pledge overpowering and unpleasant.
Not ideal for antiques: The acrylic polymers may damage extremely delicate antique finishes over time.
Flares up allergies: Due to synthetic fragrance and formulas, Pledge is more likely to irritate allergies.
Contains volatile organic compounds (VOCs): Pledge emits VOCs which can be harmful to health and air quality.
As you can see, Pledge comes with some drawbacks, particularly when it comes to ingredients and fragrance.
Favor And Pledge: Which Should You Choose?
After going over all the pros, cons, and differences – it's time to make a decision. Here are a few key considerations when deciding between Favor and Pledge furniture polishes: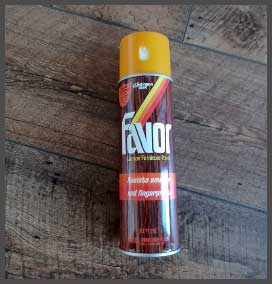 Types of furniture – Favor is better for natural wood pieces, while Pledge works well for laminate, metals, and painted finishes.
Level of shine – Those wanting a super glossy finish would be happier with Pledge's acrylic polymers. Favor's shine is more low-key.
Fragrance preferences – Citrus lovers lean towards Favor while those sensitive to scents prefer Pledge.
Budget – Favor is generally a little more affordable than Pledge if you're on a tight budget.
Frequency of use – Pledge offers more durable protection so it's better if you don't want to repolish as often.
Health/safety concerns – Favor is the safer choice being food-safe, plant-based, and low in VOCs.
Eco-friendliness – Favor is more environmentally friendly while Pledge contains harsher chemicals.
Ultimately, it depends on your needs and preferences. For natural wood furniture, eco-friendly plant oils, and a budget price, Favor Furniture Polish is an excellent choice loved by many customers for good reason.
If you want extremely durable shine that repels dust on laminate, painted, or metal furniture, Pledge may be the better option.
Hopefully this detailed comparison has provided some clarity to help you decide whether Favor or Pledge Furniture Polish is the best match for your home and furniture!
Frequently Asked Questions (FAQ)
Below are answers to some common questions about Favor and Pledge Furniture Polish:
Who makes Favor Furniture Polish?
Favor Furniture Polish is made by the Faultless Starch/Bon Ami Company, which has over 100 years of cleaning product experience.
What furniture polish do professionals use?
Professional cleaners and furniture restoration experts often use polishes like Howard Restor-A-Finish, Briwax, and Liberon Finishing Wax for high quality furniture care.
What is the best cabinet cleaner and polish?
Great cabinet cleaners and polishes include Method Wood for All, Mrs. Meyer's Clean Day Cabinet Cleaner, and Cream Wax Furniture Polish. Howard Restor-A-Finish is also popular for a conditioning and protective polish.
Why not use Pledge on wood furniture?
Pledge is not ideal for antique or natural wood furniture as the harsh acrylics and waxes can build up over time, dulling the finish. It also isn't food-safe, so you don't want to use it on dining room tables. Natural plant oil polishes like Favor nourish wood better long-term.
Is Pledge or Old English better?
Pledge and Old English are both quality furniture polishes. Pledge leaves a glossier shine while Old English offers a more natural oil, beeswax formula. Old English is better for antiques but Pledge works well for heavy dusting needs on finished wood. It comes down to personal preference.
Closing Remarks
Hopefully this article has given you all the details you need to decide whether Favor or Pledge Furniture Polish is the right choice for your furniture polishing needs!