One of the critical tools for lawn maintenance is a trimmer. It helps you keep the appearance of the lawn much cleaner and makes the lawn condition better. While choosing the best trimmer for your lawn, you come across the comparison of Echo PAS 280 vs. 2620.
One of the biggest differences you get to see between the two is availability. The Echo PAS 2620 is readily available because it's a newer model. Whereas the Echo PAS 280 is discontinued. So, support and availability will be two of your concerns.
Keep reading to understand more about the two.
A Quick Comparisons Table
| | | |
| --- | --- | --- |
| Specifications | Echo PAS 280 | Echo PAS 2620 |
| Displacement | 28.1cc | 25.4cc |
| Fuel capacity | 21.1oz | 20.6oz |
| Starting system | Standard | Standard |
| Dry weight | 10.8 | 9.9lbs |
In-Depth Differences Between Echo PAS 280 And 2620 Trimmers
Both are from Echo, so reliability will not help you decide on it. What do you do then?
You dive into the details of both the trimmers and compare them. That's what I will be doing here. So, if you are struggling to make a decision, this will help you out a lot.
Trimmers are always about the attachments that you can use on them. There are so many attachment options you can find for these trimmers.
The trimmers come with many different attachments that fulfill various purposes for your weed trimming session on your lawn.
Well, for attachments, they almost have similar options. However, you get two additional attachment options with the Echo PAS 280. These are the rapid-loader trimmer and Pro Thatch attachment.
You can't get them for your Echo PAS 2620.
So, if you feel like you need these attachments for your maintenance purposes, then I would say Echo PAS 280 should be your pick in this case.
Now, the fundamental factor that makes any difference in your choice is the performance of the trimmers. There is a slight difference that you can notice between these trimmers.
The Echo PAS 280 is something that you will love for the kind of power it provides. You can get through heavy tall grasses without any trouble when you have this.
Clearing up the lawn weed with this trimmer shouldn't be a problem. The engine displacement of 28.1cc provides some handy results for sure.
On the other hand, the Echo PAS 2620 lacks a bit in the power department if you compare it. With its 25.4cc engine displacement, you don't get as much power as the 280.
It will cut through heavy and tall grass, but the job will be more difficult than the 280.
Deciding on one trimmer based on the power factor is simple. If you have to cut a lot of heavy grass, go for the 280. But if there isn't that much tall or heavy grass on your lawn, then either will work just fine.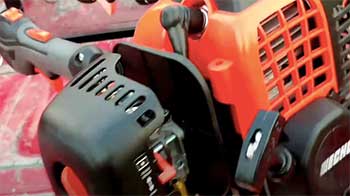 Ease of use is always something to consider when getting these tools. You don't want to end up with a tool that takes a ton of preparation to use.
Also, something that takes a lot of critical processes to use isn't something you would desire.
Typically, you shouldn't have any problems with using the 280 whatsoever. It's pretty straightforward and functions quite well without any trouble at all.
But with 2620, there is something you will need to face. It's the pull start function on the trimmer.
The pull start on this trimmer is a bit hard to start up, especially when you compare it to the 280. You will notice a difference.
So, if you are thinking of ease of use, then the Echo PAS 280 is the easier one to use with a much smoother operation. You don't face any trouble with the startup, like the issues with Echo PAS 2620.
In the case of trimmers, weight has a lot of impact on the decision-making process. Here's why a lightweight trimmer will always be a better pick.
You can use it for long hours without causing fatigue. So, if you have a more extensive lawn to clear, then a lighter option is perfect for you.
Now, coming to the two options here, the Echo PAS 2620 is a bit lighter than the 280. Even though it's the bare minimum, the difference is that it impacts a lot when you use it for long hours.
Because the trimmer will feel a lot heavy in your hands, you either have a hand ache or spend a lot of time clearing the lawn.
So, the clear choice in terms of the comfort of using the trimmer is Echo PAS 2620 because of the lighter weight. You can easily carry it around with you for a longer period without causing any kind of discomfort to your hands.
Now, the factor that I think will clear out all the confusion and give you a clear answer is this one. This factor has a massive effect on the particular trimmers I have for you here.
The thing is that Echo PAS 280 is currently discontinued. You may not even find a brand-new unit, and you have to get refurbished or second-hand choices.
It takes away the reliability factor from these trimmers. Also, if you already have one, you don't get any support for that trimmer from the brand either.
On the other hand, Echo PAS 2620 is one of the latest models from the brand. So, you can expect to get excellent support from the brand and good results. This model's repair and replacement parts are very easy to find compared to the Echo PAS280.
What Will Be The Suitable Choice For Your Purpose?
I mean, the choice is very much clear here. It's going to be the Echo 2620. Because you can easily get this from just about anywhere with the necessary support from the brand.
Whereas the Echo PAS 280 is currently discontinued, there is not much to ask from it.
Still, if you are thinking of either getting a second-hand version of the Echo PAS280 or a refurbished one, then I would say you can get it for power.
But if you are seeking comfort, then Echo PAS 2620 will still be your pick. Now, watch the video review on it.
Conclusion
Echo PAS 280 vs. 2620 has a clear winner with the Echo PAS 2620. The main reason for this is the discontinuation of Echo PAS 280. You can't even get the trimmer in new condition, so why bother about it?
Also, the ECHO PAS 2620 doesn't fall behind in terms of comfort and performance.
You can still get a lot out of the Echo PAS 2620 as the perfect trimmer for your lawn. It has got excellent features and incredible durability to deliver the promises.
And most importantly, it's reliable with support from the brand due to being one of the latest models.