You can easily carry out your fitting expansion jobs with a PEX expender. But only the right tool will deliver you a better performance. In that case, you must know everything about Dewalt PEX expander vs. Milwaukee.
With high-quality tools and superior performance, these two tools are often compared. So, it can be a tough decision to choose between the two.
In this article, I will give you a clear idea about both tools in the easiest possible way so that you can make your decision.
Quick Comparison Between Two PEX Expanders
Let's have a glace at a quick comparison table between Dewalt and Milwaukee:
| | | |
| --- | --- | --- |
| Aspects | DeWalt | Milwaukee |
|                  Capacity                 | 20V Battery | 12V Battery |
| Features | Full-trigger Actuation | Dual-trigger Actuation |
| Tool Kit | Includes 2 Batteries | Includes 1 Battery |
| Weight | 3.92 Pounds | 4.3 Pounds |
| Price |               Around $459 | Around $394 |
| Warranty | 5 years Limited warranty; 1-year Free service; 30 days satisfaction Guarantee | 5 Years Limited Warranty |
In-depth Differences Between DeWalt and Milwaukee 
The comparison table above has given you a quick idea, but let's look at their features and differences in detail.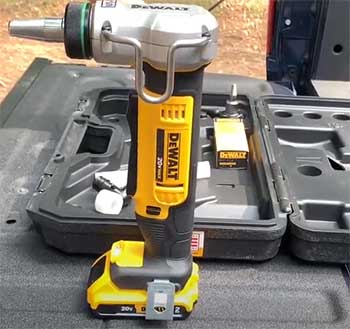 A 20V max lithium-ion battery powers the Dewalt PEX expansion tool. It can expand the tube from 3/8 inches to 1 inch.
On the contrary, Milwaukee is powered by a 12V lithium-ion battery, and it also can tubing from 3/8 inches to 1 inch.
So, they provide precisely the same tubing performance. The only difference is the battery power.
Both devices are cordless and powered by a lithium-ion battery.
But the Dewalt battery will provide better performance than that of Milwaukee. 
Both Dewalt and Milwaukee have a bold design. Dewalt has an onboard LED light to illuminate a dimly lit place, while a full-trigger actuation will ensure you can work in a tight space.
A dual-sided hang hook and belt hook makes it easy to carry. The rubber over-mold in its handle will provide you with an ergonomic grip. 
On the other hand, Milwaukee also has LED lights to illuminate your workplace. Its dual-trigger actuation will make it accessible in hard-to-reach areas.
Besides, you can effortlessly use the tool with a single hand because of its built-in auto-rotate mechanism. It also comes with a paddle trigger for reaching tight spaces.
Dewalt PEX expander tool kit comes with the Dewalt PEX expander tool, a 20V max charging platform, 2 lithium-ion batteries, a ¾ inches head, a ½ inches head, a 1-inch head, one charger, grease, and a bold looking carry case.
Similarly, the Milwaukee PEX kit comes with a Milwaukee PropPEX expansion tool, one lithium-ion battery, a ¾ inches head, a ½ inches head, a 1-inch head, a charger, a grease cone, and a carry case.
The difference here is that Dewalt comes with 2 batteries and Milwaukee only 1.
Weight can be a crucial factor for a PEX tool because you will have to carry it while working. You can carry a less weighted device for a longer time.
The weight of the Dewalt tool kit is 5 pounds, and the tool itself weighs 3.92 pounds.
In contrast, the Milwaukee tool kit weighs 7.1 pounds, and the tool weighs 4.3 pounds only. Dewalt weighs significantly less than Milwaukee, making it easier to use.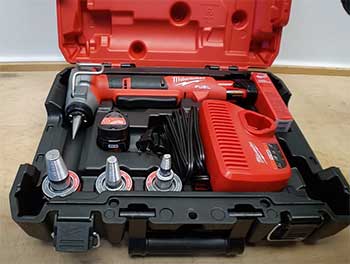 Dewalt PEX expander tool comes with 90 days satisfaction guarantee, meaning you can send back the tool within 90 days from purchase and claim a refund.
Apart from that, you will get 3 years limited warranty with 1-year of free service.
But Milwaukee PEX expander tool comes with 5 years of limited warranty.
There is no money-back guarantee or service-free warranty is available for Milwaukee. So, Dewalt provides better service in terms of the warranty and after-sales service.
Price can be an essential element while choosing a PEX expansion tool. The Dewalt PEX tool comes at a $459 price point and is available at home improvement stores and various online stores.
In contrast, Milwaukee comes at $394 and is also available online and at home improvement stores.
Milwaukee is cheaper than Dewalt, but you have to remember that Dewalt comes with 2 20V batteries, which is a critical dealmaker.
Which PEX Expansion Tool Is Suitable For You?         

Dewalt PEX expansion tool comes with 2 20V lithium-ion batteries, 3 different side heads providing 3/8 inches to 1-inch tubing, a charger, grease, a carry box, and offers 3 years limited warranty with 1-year free service and 30 days satisfaction guarantee.
On the other hand, Milwaukee comes with 1 12V battery, 3 different heads ensuring 3/8 inches to 1-inch tubing, charger, grease, carry box, and offer 5 years limited warranty.
It should be clear to you which tool offers the best. But let me tell it anyway. You should buy a Dewalt PEX expander.
It not only weighs less but also comes with a better aftersales service. You can always reach out to them if you face any problems.
Frequently Asked Questions (FAQ)
How does Dewalt PEX expander work?
Dewalt PEX expander works fast and efficiently. You have to fit the ring on your pipe and put it on your tool. Pull the trigger, let it expand 5/6 times, and then put the fitting into the ring.
Do you need a PEX expander?
PEX expander expands pipe opening pretty fast and easily. So, yes, you need a PEX expander if you want to expand your pipe for fittings effortlessly.
How do you stretch PEX pipe?
You can stretch a PEX pipe using a PEX expander tool. You have to put the pipe opening into the PEX expander; it will expand the pipe while rotating.
How do I use the manual PEX expansion tool?
Manual PEX expansion takes a lot of effort and time. You have to put the manual expansion tool inside the pipe and keep pushing it while pulling the handle back and forth.
Conclusion
Auto rotating PEX expander tools are a real blessing if you choose the right one. It can save your time, energy, and effort, making your plumbing project smooth and fast.
On that note, I hope my Dewalt PEX expander vs. Milwaukee review gives you the proper insight about the best tool.
So, now that you know which tool to choose, your plumbing project will become easier.