Chaplin and Earthway seeders use vertical seed plates, with cups holding and directing the seeds into seed chutes. The big difference between the two seeders is that Earthway precision is constructed using aircraft-grade aluminum, lighter than the steel used on Chapin.
Other differences in functionality and design between the two seeders are discussed in the Chapin Vs. Earthway seeder guide below:
A Quick Comparison Table 
| | | |
| --- | --- | --- |
| Specifications | Chapin Seeder | Earthway Seeder |
| Material | Steel | aircraft-grade aluminum |
| Comfort | Cushion grips for comfort | Adjustable arms for comfort |
| Seed distribution | Six distribution plates. | Six standard seed plates and a metal hooper to cover the seeds. |
| Efficiency | Efficient for small clean gardens | Can penetrate deep into the dirt |
| Durability | The steel frame is coated with powder | Aluminum is durable and rust resistant |
| Warranty | 1-year warranty | 5-year warranty |
Key Difference Between Chapin And Earthway Seeders
The first difference you will notice is the material used to make the seeder. Chapin seeder is made using powder-coated steel to make it durable. Earthway seeder, on the other hand, is made using aircraft-grade aluminum, which makes the seeder lighter.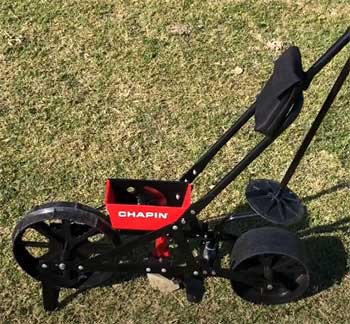 Earthway seeder measures 22″ in length, and its two-handed handle is designed for comfortable use.
In addition, this handle can be quickly adjusted to fit your body height and posture.
The handle has a comfortable grip, plus it's made from non-slip rubber that provides maximum comfort during use.
Chapin seeder measures 12″ and is light in weight.
It has an ergonomically designed handle for maximum comfort and is also made from rubber for a non-slip grip.
The main difference between Chapin and Earthway seeders is their seed distribution plates. Earthway seeder's distribution plate has 22 uniform-size holes, which makes it perfect for even ground application.
Meanwhile, Chapin's distribution plate has 45 slots, which helps distribute the seeds evenly on uneven ground.
Earthway has a metal hopper holding up to 10 L of seeds and a blow tube that helps evenly distribute the seeds. The 2-in, 8-hole seed tray is made from rugged plastic, while the distribution plate has 22 uniform holes that are 3/8″ in size.
Chaplin also has a seed hopper that can hold up to 4 L of seeds and a tube that helps evenly distribute the seeds. The distribution plate has 45 slots that are 1/2″ in size.
Earthway seeder can be powered using a 2.4 Amp electric motor powered by a 5-foot extension cord. This product also comes with a flat handle for easy use and maneuverability, and it's designed for comfortable use with adjustable height and rotation.
The seeder can plant multiple seeds, you can adjust the spacing of the seeds, and it does not require much force to move forward. This makes it faster to use, meaning you can cover ample space over a short period.
On the other hand, the Chapin seeder cannot maneuver in a garden with dirt. You first need to clean the garden before using the seeder.
The seeder does not allow double spacing of the seeds. You also have to push the seeder when planting. This consumes much time and gets tiresome.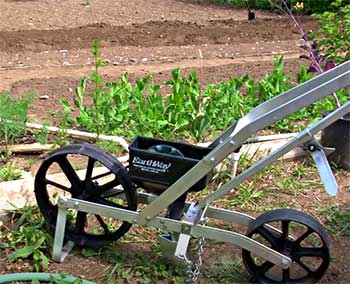 Both Chapin and Earthway are durable seeders and can provide you with services for years if you take good care of them.
However, Chapin is made of steel which can rust. To prevent the steel from rusting, it is coated with a powder.
Earthway seeder is made of high-quality aluminum, which is rustproof and durable.
The seeder will last you years of service with minimum care.
A company that is so sure of its products offers its clients extended warranty coverage. Earthway precise seeder offers its client a five-year warranty.
This is opposed to Chapin, which offers a 1-year warranty to its clients.
Which Is Better Between The Two Seeders?
If you are looking for a seeder for a large garden, Earthway is your best bet. The machine consumes less power, saves on the number of seeds you use in a garden due to precision seed placement, and is durable.
Chapin is efficient for a small-scale gardener who is working on a budget.
Earthway also offers a five years warranty coverage, while Chapin offers a 1-year one. No matter which seeder you pick, ensure you have read the user manual for accurate usage.
Frequently Asked Questions (FAQ)
What Plates Come with The Earthway Seeder?
Earthway seeders come with six standard seed plates, part number 6000. You can also purchase five optional seed plates separately by searching for part 60010.
How Do You Use Earthway Garden Seeder?
To use the Earthway seeder, place the plunger into the ground where you choose to plant your seed or bulb. Ensure you have a hand on the plunger to push it down and move away from the seeder as soon as possible.
To keep things simple with this tool, follow the directions strictly.
If you have questions or concerns about operating an Earthway garden seeder properly, please refer to their manual for additional instruction and information.
How Much Do Seeders Cost?
The cost of seeders costs somewhere between $150 for small scall seeders and $500 for high-end seeders.
What Is the Use of a Seeder?
In many ways, a seeder works just like an electric drill. It will drill a hole in the ground and create a path for the plant's roots to grow.
 Seeding machines are also quite helpful in planting large seeds, like those used to germinate trees and shrubs. A seeder can also be equipped with wheels for mobility and other attachments for various uses. 
Conclusion
There are quite a several seeder brands in the market. However, Chapin and Earthway compete among the best seeders in the market.
The comparison guide has some of the critical information you need to know about the seeders. From the guide;
Earthway seeder has a unique design that helps it work more efficiently in terms of power consumption, effort, and time. In addition, this product is perfect for reseeding lawns after mowing,