Between Champion and Countyline Log Splitters, the Countyline log splitters are highly used and recommended by most people. But it doesn't mean the Champion is terrible.
Where Countyline is best with its robust Kohler engine construction, Champion is a more portable unit.
However, comparing the 25-ton wood splitters from both brands reveals some significant differences. The credential shows that the Countyline 25-ton log splitter is winning over the Champion 25-ton log splitter.
But we'll find out in detail.
A Quick Comparison Table
| | | |
| --- | --- | --- |
| Specifications | Champion 25 Ton Log Splitter | Countyline 25-Ton Log Splitter |
| Engine Type | 224 CC Champion Engine 4 Stroke | 196 CC Kohler Engine |
| Customer Demand and Appraising | Lower | Higher |
| Country Made In | Usually China, sometimes the USA | Made in the USA by Tractor Supply Company |
| Operating positions | Vertical and Horizontal | Vertical and Horizontal |
| Cycle time | 11.5 seconds | 11 seconds |
| Unit Weight | 434.3 lb. | 490 lb. |
| Log Catcher | Already coming with the unit | Has to buy separately |
In-Depth Differences Between Champion And Countyline Log Splitters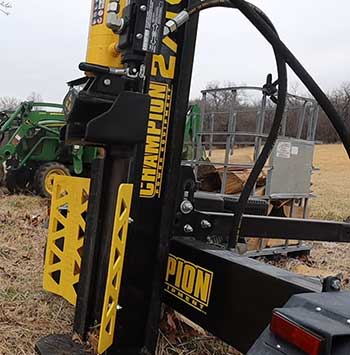 Usually, from the data, you'll realize that Champion is more powerful even in the same 25-ton capacity than Countyline with its 224 CC 4-stroke engine.
But this engine is from the same brand Champion about which you might never hear of.
It seems Champion will perform better than Countyline, but that's not true.
Because the Countyline log splitter comes with a 196 CC 4-stroke Kohler engine, Kohler is another reputed brand for making powerful engines that don't just deliver the needed power; they also stay durable for a more extended period.
Conclusively, when cutting those separate logs of wood or splitting them apart, a Countyline will always perform better.
Customer Demand and Appraising
From research, it can be seen that more customers are loyal and using the Countyline Log Splitters. But that doesn't mean the Champion is worse or wrong.
You will have to ensure which suits your current projects or works better. No matter how much wood you've got, both will perform well.
However, I'll have to mark it better when people keep saying better things about Countyline regarding its operations, working, and other features.
But when you visit the Champion website, you'll also find many positive reviews about these giants from the Champion brand.
Champion shows on its website that its log splitters of various sizes or tons are either made in the USA or Canada. But that's not true.
Basically, these are made in China, and many customers confirm it.
You can even check their website and find out how these Champion Splitters are made available to your nearby store or machine shop.
On the other hand, Countyline is a brand of Tractor Supply Company which is a known company for dealing with multiple operations.
The company is currently manufacturing and selling these units in the United States of America, which means the Countyline Splitters are made in the USA.
This company makes these Countyline log splitters for the customers and is available in various sizes.
From both brands, one can have log splitters ranging from 7 tons to 40 tons depending on a reasonable workload or capacity.
A Log must operate in both ways, including the vertical and horizontal. The same is the case with the units selected from these two brands.
One can use a specific model splitter for vertical and horizontal log splitting needs or jobs.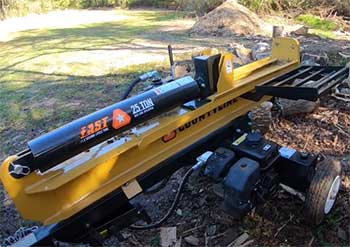 Being more concerned about the Cycle time on a log splitter is very important for a customer.
Because it will help you decide how efficient and effective your unit will be.
When you match the exact capacity models from both brands, the Countyline takes only 11 seconds to split a log and returns to its normal position.
Compared to this, the Champion takes 11.3 seconds, which is more time-consuming than our model. If you go with the Champion, you may not go highly efficiently.
With its 490 Lbs. Weight, the Countyline may not be that extra portable unit you are expecting it to be.
However, most people always manage with that. But suppose you are trying to find a little extra portable Splitter. In that case, you must consider the Champion 25-ton log splitter with only 434 pounds weight which is comparatively lesser than the Countyline model.
If you know how a log splitter works, you will also know what a log catcher is. Right? In case you go for the champion model, you will get this log catcher at the same price tag for the unit you will be paying.
In contrast, Countyline asks you to buy it separately, which might incur a little more cost.
Which Log Splitter Is Better To Consider?
A Countyline Log Splitter seems more expensive than our Champion unit but comes with more blessings.
The Champion gives you up to 2 years of a limited lifetime warranty with free lifetime repair. In contrast, you will also have to spend a few bucks more if you want to add a protection plan for Countyline.
If you are short on budget, you must choose Champion because it's still a good log splitter. Here is why.
But if the money is not the problem, Countyline will constantly improve.
Frequently Asked Questions (FAQ)
Who Makes Countyline Wood Splitters?
Tractor Supply Company makes these Countyline branded wood Splitters.
What Is The Best Brand Of Wood Splitter?
Yardmax is one of the best brands of wood splitters currently available in the market.
Who Makes Champion Splitters?
The in-house Champions make these splitters by themselves. No third company is involved in the manufacturing of splitters for this brand.
Is County Line A Good Log Splitter?
For all reasons, Countyline is a good brand, though a little expensive. Yet, you will find it with all the best features required to complete the task.
Final Thoughts
It's pretty hard to decide the best splitter between Champion and Countyline Log Splitters, but most people recommend Countyline. The possible reason for choosing this brand splitter is their powerful and durable engines.
On top of that, such splitters work even faster than an average Champion Splitter and save more. However, you are not bound to choose only Countyline.
Because if Champion keeps your Neighbors happier, it might be you next on its list!