When it comes to custom closet and storage solutions, two big names stand out – California Closets and The Container Store. Both companies have been around for decades, offering high-quality organizational products and customized installations.
But which one is better for your needs?
In this detailed comparison guide, we'll examine the key differences between California Closets and The Container Store when it comes to pricing, services offered, product selection, and more.
We'll also provide pros and cons for each company, so you can determine which is the best fit for your home.
A Brief Comparison Table
| | | |
| --- | --- | --- |
| Aspects | California Closets | The Container Store |
| Pricing | Expensive, custom jobs often $3K+ | Budget-friendly, systems from $300+ |
| Products | Specialized in custom closets and built-ins | Huge selection of all storage and organizational products |
| Services | Full service model with design consultations, custom fabrication and professional installation included | DIY-focused with in-store experts available for guidance |
| Quality | Luxury materials and construction for maximum durability | Affordable quality that exceeds department stores |
| Customization | Fully customized, made-to-order designs | Flexibility with pre-set components but less customization |
| Installation | Handled completely by California Closets team | DIY or third party installer hired separately |
| Lead Times | Fast turnaround, often 2-4 weeks | Flexible based on your own timeline |
Overview of California Closets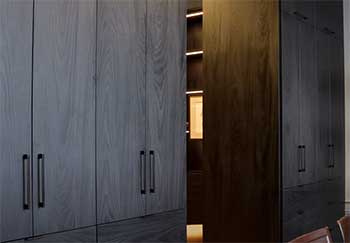 Founded in 1978, California Closets is known for made-to-order closet systems, built-in cabinets, home office solutions, and general home organization.
They operate nearly 100 showrooms across the U.S. and Canada.
Some key facts about California Closets:
Specializes in customized closet design and installation
Products are made from high-quality materials like wood, laminate, and metal
Typical customers are high-end homeowners looking to maximize closet space
More expensive than The Container Store but offers total customization
Overview of The Container Store
Founded in 1978 as well, The Container Store offers a wide variety of storage and organization products. While they don't do customized installations, they have experts in-store to help you design your own DIY solutions.
Some key facts about The Container Store:
Carries a huge selection of organizational products, from closet systems to office supplies
Focuses on storage solutions for any budget
Typical customers are everyday homeowners and renters looking to get organized
More budget-friendly pricing but less customization than California Closets
Key Differences Between California Closets And The Container Store
Now let's do a deep dive into how these two retailers compare across several factors:
Pricing
When it comes to cost, California Closets is significantly more expensive than The Container Store. Exact pricing depends on the size and complexity of your project, but California Closets installations often cost several thousand dollars or more.
Their custom closet systems use higher-end materials and require professional installation.
The Container Store's products are much more budget-friendly for the average homeowner. Their closet and shelving systems won't be fully custom, but you can buy all the components you need for DIY installation.
Overall pricing is very reasonable, with closet kits starting at just a couple hundred dollars.
The bottom line: California Closets offers luxury-level customization at luxury-level prices, while The Container Store is better for budget-conscious shoppers.
Product Selection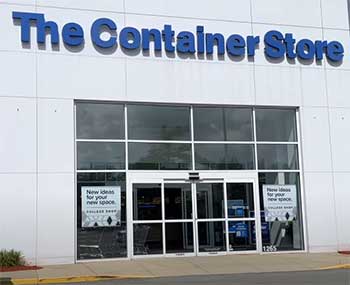 Both retailers offer a wide range of storage and organization products, but California Closets has a more specialized focus.
They excel at customized closet systems and built-ins. Their offerings include:
Custom closet systems with integrated drawers, shelves, rods, and other components
Built-in cabinets, murphy beds, etc.
Home office solutions like desk systems and filing cabinets
Luxury garage storage and pantry organization
The Container Store has a much broader product selection encompassing all home and office organization needs:
Closet systems, elfa being the most well-known
Shelving units, cabinets, and drawers
Office supplies and desk accessories
Bathroom organizers, kitchen gadgets, travel products
General home organization tools like bins, baskets, and hangers
The Container Store lets you mix-and-match a wider array of organizational products. California Closets offers more truly custom closet and storage systems but fewer ancillary products.
Services Offered
A major difference between these two retailers is their services. California Closets handles the entire closet design and installation process for you. Their services include:
At-home design consultations
3D renderings of proposed designs
Removal of existing closets/systems
Custom fabrication
Professional installation
Follow-up support
This full-service model takes all the work off your hands. But it comes at a price.
The Container Store has experts in-store to assist you, but the installation process is DIY. The services they offer are:
In-store consultations with organization experts
Custom product recommendations
Assembly and installation guides
Product videos and tips
Some third-party installation services available for an added fee
So with The Container Store, you'll have guidance picking products but need to handle the installation yourself. This gives you more control over the process.
Quality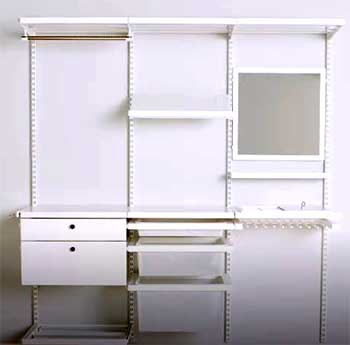 When it comes to quality, California Closets reigns supreme but The Container Store also offers solidly constructed products.
California Closets uses high-end materials like wood, laminate, and premium hardware.
Their systems are sturdily built and crafted to maximize your space.
Even their track systems and rods are heavy-duty.
With proper care, a California Closets system can last for decades.
Though not completely custom-made, Container Store products are reasonably good quality for the price. Their popular elfa systems feature durable materials like steel, laminate, and wood. Their closet components exceed average department store quality. But their products likely won't match the luxury feel and construction of California Closets.
Design/Customization
One of the biggest differentiators between these two retailers is the level of customization offered. California Closets is the clear winner when it comes to customized design.
Every California Closets system is made-to-order based on your unique space and needs. Their expert designers can create one-of-a-kind solutions tailored to your closet's dimensions with customized features like:
Built-in drawers and shelves cut to size
Variable height components and hardware
Coordinated finishes and materials
Innovative organizing features like lateral drawer slides and drop-down pant racks
Integrated lighting, charging stations, jewelry trays, and more
The Container Store offers some flexibility to choose components and adjust sizing, but their systems won't have near the level of tailoring. With elfa, for example, you choose from pre-set modules, shelves, and hardware pieces to design your own system.
If you desire a true one-of-a-kind closet or cabinet, California Closets is the best choice. The Container Store is great for DIYers who want an off-the-shelf solution at a reasonable cost.
Installation Process
Installing a custom storage system from California Closets means enjoying a streamlined, professional process handled completely by their team. Installation involves:
Removal of old closet by installers
Assembly of system offsite at California Closets fabrication facility
Delivery and complete installation by California Closets team
Adjustments made during installation or afterward as needed
Optional removal of packaging materials and cleanup
You can literally watch your new custom closet take shape before your eyes as their team handles everything.
Opting for The Container Store means you'll need to tackle the installation yourself or hire your own contractor. The process typically includes:
Clearing out and removing current closet contents on your own
Relying on The Container Store guides for assembly and install
Putting the system together yourself or hiring a separate installer
Managing any adjustments, returns, etc. on your own
Installation definitely takes more work but gives you flexibility and control. Some locations do offer third-party installers you can hire at an added cost.
Lead Times
Another benefit of California Closets is their speedy turnaround. Once you place your order, their team can usually complete your new custom closet build and installation within 2-4 weeks.
The Container Store doesn't have installers on staff, so once you purchase a system the timeline depends on your own project schedule. DIY assembly may take a day or two. If hiring a third-party installer, lead times can vary greatly.
For a quick closet overhaul, California Closets has faster project completion. The Container Store offers more flexibility for customers juggling their own timelines.
Pros and Cons of California Closets And The Container Store
To recap, here's an overview of some main pros and cons of California Closets versus The Container Store:
California Closets
Pros
Total customization for a built-in, bespoke look
Professional installation included
High-quality materials and construction
Specialized focus on closets and built-ins
Speedy turnaround times
Cons
Very expensive, with average jobs over $3,000
Limited selection of non-closet organizational products
Less flexibility and control for DIYers
The Container Store
Pros
Affordable pricing, with closet systems starting under $300
Huge selection of storage and organizational products
DIY-friendly with expert guidance available
Flexible timelines based on your schedule
Accessories and add-ons available to customize
Cons
Less customization potential versus California Closets
No professional installation included
Quality not as high-end but still good
Not specialized in closet systems
Which Should You Choose?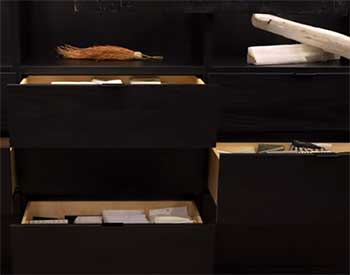 Deciding between California Closets and The Container Store comes down to your budget, how customized you want your storage solutions to be, and your willingness to tackle installation yourself.
California Closets is the leader in high-end, luxury closets with completely custom designs, premium materials, and professional installation.
The Container Store excels at affordable storage furniture and accessories with DIY-friendly systems.
Here are some factors that may steer you towards one retailer:
Choose California Closets if you want:
A truly bespoke, built-in closet system
Your exact storage specifications met
Top-notch quality with premium materials
A full-service experience with installation included
Opt for The Container Store if you want:
An affordable DIY closet system
Flexibility in your timeline and process
To select storage pieces from a huge product range
Ability to tackle installation and adjustments yourself
FAQ About California Closets and The Container Store
Who is better than California Closets?
There are few direct competitors who offer the same level of luxury, custom-designed closet and storage systems as California Closets. Some alternatives with high-end custom capabilities for closets and cabinets include:
1. Marshall Erb Design Group
2. EasyClosets
3. Closet Factory
4. Closets by Design
5. Tailored Living
Overall though, no one really matches the combination of specialist expertise, premium materials, and breadth of locations that California Closets offers. They stand out through their focus and experience with customized closet installations.
How much is Elfa vs California closets?
On average, elfa components and full systems from The Container Store are significantly less expensive than California Closets' installed solutions:
1. A basic reach-in elfa closet kit at The Container Store can start at $289.
2. California Closets reach-in closets may start at $2,000+, with most jobs over $3,000.
You can buy individual elfa parts like shelves, rods, and hardware for $10-$100+ to mix-and-match. California Closets builds each system to order.
Keep in mind elfa won't offer the luxury materials and total customization of California Closets. But for DIYers on a budget, elfa presents a more affordable alternative.
Does California closets use real wood?
Yes, California Closets incorporates real, solid wood into many of their custom systems and components. Some examples of real woods used include: Oak, Maple, Hickory, Cherry, Walnut, Alder, etc.
They source these woods locally when possible. Some doors may feature veneers over wood substrate, but key structural elements are often solid wood. This provides maximum durability and a top-tier finish.
Is California closets only in California?
No, California Closets has expanded across North America with nearly 100 showroom locations throughout the US and Canada. Some of the many states with California Closets locations include: Texas, Florida, New York, Illinois, Georgia, Virginia, Minnesota.
California remains an important market with over 20 showrooms, but the company serves clients all over via their national network. They continue growing into new states as well.
Final Thoughts
At the end of the day, California Closets and The Container Store both offer excellent options for upgrading your home's organization and storage. California Closets brings custom closet design expertise, while The Container Store provides versatile DIY solutions.
Carefully consider which level of service, quality, and pricing fits your needs to choose the best storage retailer for your next project!