Ever wonder about the key benefit of a massage gun?
You may feel a lot of pain from intense activity or injury. A massage gun decreases muscle pain and tension and relieves sore muscles by improving the blow flow. But which brand to rely on?
You might have come across Bluzen massage guns if you have done a little research. But should you buy this product or skip it?
It requires you to consider all the pros and cons. That's what we are going to discuss in this post. Let's start the review session without wasting any time!
Features of Bluzen Massage Guns
A Bluzen massage gun is measured by its impact on the muscles and strength. You want to feel at ease and recover from the sore, tight muscles.
This cutting-edge tech can be an early treatment choice before going to a physical therapist. Let's explore the notable features of Bluzen massage guns.
Multi-frequency vibration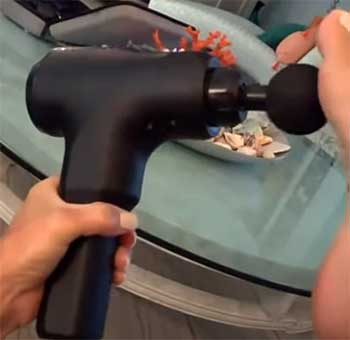 Bluzen massage guns have multi-frequency vibration, similar to the "tapotement" technique.
Its main job is stimulating the soft tissues of a target through vibration and shaking motion.
You can select the light vibration option for the muscle to relax and decrease the muscles' tightness.
Plus,multi-frequency vibration is effective in reducing muscle stress that can happen from intense physical activities.
It can also improve blood circulation and capillarization in the blood of the treated area by using percussion techniques.
Bluzen massage guns have 5 to 8 controlling speeds based on their models. The higher the speed, the more intensifier the speed. Top speeds have increased strength.
Higher speeds come in handy to raise the muscle temperature, which will improve the flexibility and pliability of your muscle tissue.
Use low speed initially, and move upward if the lower rates are ineffective. You may feel uneasy about using higher speeds from the beginning until you are used to it.
One of the most convenient features of Bluzen massage guns is their one-handed operation system. They come with a single-button use and are ready to operate when you turn on the switch.
You can use a device of your own to massage your body. However, some body parts might be hard to reach. You may struggle to massage those areas conveniently.
Avoid spending more than 2 minutes on a particular body part. It is best to continue massaging a particular body area for 30 seconds to 2 minutes.
How would you react if the massage gun slipped away in the middle of the massaging?
Thankfully, a Bluzen massage gun has a slip-resistant handle. You can hold the device long and complete the massaging session.
But if your hands sweat a lot due to physical issues, wipe the handle after completing each massing session. This will prevent accidental dropping issues and keep your body safe.
Bluzen massage guns come with a high torque and robust motor. Their high speed and intense vibration give you a clear idea of how powerful their machine is.
The motor will perform consistently to provide sufficient power for massaging the body parts.
The manufacturer uses advanced technology to reduce the sound. The noise level ranges from 40 to 55 decibels depending on the speed and vibration level.
Hence, you will not feel disturbed while massaging your body. But if you still hear increased noise, operate the device at a slightly lower speed.
1500-3300 Percussions Per Minute
Bluzen massage guns utilize vibration and deep oscillation to generate percussions. People often called them percussion massagers.
The head of the device has a massage gun that is indirectly contacted with the particular body part. It works like a jackhammer that can generate 1500 to 3300 percussions per minute based on the speed and vibration level.
The fast and continuous pressure combined with percussion therapy soothes your sore muscles. Its main job is reducing muscle tension, boosting blood flow, and raising the mobility of your different body parts.
Different Body Massage Options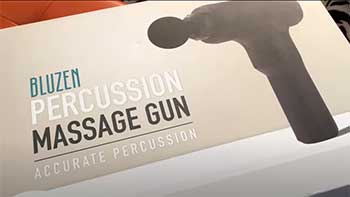 You can enjoy different body options with various attachments included with the massage guns.
For example, they come with Ball, Fork, Flat, and Bullet items.
The ball is one of the most widely used attachments for massage guns.
This dense foam or rubber is used primarily to massage both medium and big muscle groups such as hamstrings, glutes, etc.
The fork head has a dual-pronged shape that you can use for the lower back pain areas. You can also use the attachment for the back neck. But make sure to be highly cautious.
A flat head is a perfect choice for massing small-group muscles. You can use it to comfort the entire body. But it is a little bit slower.
The bullet head seems the best choice if you want to massage a particular body area precisely, like the ligament or shoulder.
What Could Have Been Better With Bluzen Massage Guns?
Many cheap-quality massage guns are available. Thankfully, Bluzen massage guns are reliable to use. However, the following issues we figured out from Bluzen massage guns are below.
Not Suitable For All Body Parts
Never use Bluzen massage guns for sensitive body parts without your physician's permission. You can't use this handheld device for bony areas such as knees, elbows, spine, ankles, etc.
Keep the massage gun away from areas where you have immense pain, torn muscles, swelling issues, wounds, or injuries.
Not a Complete Replacement of Regular Physical Treatment
Bluzen massage guns are ideal for only mild sore or tight muscles. If you have intense pain in your muscle tissues, this type of handheld gun will not be much effective.
Each muscle group can be treated only 2-3 times daily with 2 minutes of operation each time. If you have some heavy muscle issues, quickly consult a doctor.
You may need a professional-grade powerful massage device to treat your muscle problems.
Bluzen massage guns come with a rechargeable battery. It will not be enough to massage your entire body. You will need to recharge multiple times to massage the whole body.
Plus, its vibration strength will reduce when the charge level decreases. The USB cord of the Bluzen massage gun is not too long to continuously use the device when charging it.
Hence, you can use this handheld device only for a short time massage.
Another common issue many users share is overheating. The battery becomes hot when you use the massage for a long time.
Make sure to give it a small break between the massaging sessions. If you continuously use the gun, it will affect its performance.
You may have a significant drop in performance over time. The massaging intensity will not be as effective as it used to be.
Wrapping Up
We have outlined this device's good and bad sides in this Bluzen massage gun review session. Before choosing this handheld gun, you must know it is suitable for light usage. You can't use the machine daily for hours.
If you have intense muscle pain, it is best to talk with a doctor and get proper treatment before it is too late. But you can use this massage for mild pain or tight muscle issues.
 Be cautious and know the approach to use it. It is best to follow the manufacturer's guidelines.