When it comes to Diesel wristwatches, they are notorious for their boldness, fashionable pattern, and immediately recognizable style. This non-conformist watch brand offers a wide range of unequivocally beautiful watches.
Recently, I had the chance to use the Big Daddy Diesel watch. This oversized and glamorous watch impressed me with its large watch face and unapologetically boldness.
But I figured out a few flaws in this product. Let's get into the review session without wasting time!
Features of Big Daddy Diesel
Big Daddy Diesel has many other features that can attract you and make you a fan of this watch.
Its timeless style, vibrant color, and handy features make it stand out. Let's explore the top-noted specifications of this wristwatch.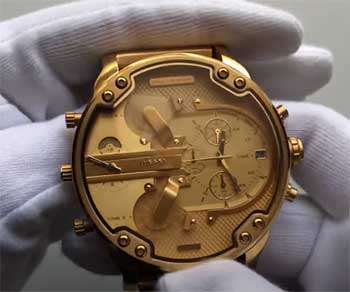 The first thing that impressed me the most was its eye-catchy design.
It comes with exquisitely masculine details and an always-oversized silhouette.
You will also appreciate its solid dark shape while the outer area has a brighter background.
It is not hard to see why Diesel is passionate about bold and striking designs.
In addition, people liked its oversize face. The exaggerated dimensions and larger face area make it easily noticeable to anyone.
Our color and design preferences vary. Diesel technically considered this aspect. The company offers 21 color choices with unique styles and patterns for each.
You can choose different options, such as red, black/silver, Gunmetal, Clear, Black, Silver/Black, Black Stainless, etc.
Both the stainless steel bracelet band and the leather band are available. This gives you the versatility to pick an option based on your preference. But it may vary depending on the color choices.
However, each has a 57mm case and a 28mm band. You won't have to be concerned about the sizing option.
Do you like standard, no-frills wristwatches? This Diesel watch comes with a quartz crystal function powered by a battery.
The battery sends electrical current to create quartz movements. It also produces vibrations at a particular frequency.
This type of watch is more reliable than automatic wristwatches because it offers better time-keeping precision for the entire month. A mechanical watch will likely show 5 to 10 seconds of inaccurate daily timing.
In contrast, quartz watches will merely lose 3-4 seconds for the entire month. Getting exceptional accuracy than mechanical watches is what you will love about it.
Do you regularly visit different countries for business purposes?
Thankfully, it is a multi-zone clock that shows different time zones. This makes it more convenient to occupy and manage time more precisely.
You don't need to rely on another watch or Google the time. Just a simple glance is enough!
Apart from saving time, you are also saving yourself from buying another wristwatch. It is not hard to see why reviewers rated this wristwatch a highly functional companion.
Multifunction Chronograph Display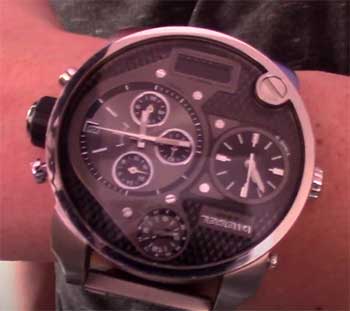 Big Daddy Diesel has a multifunction chronograph display.
Apart from the date, the unit has three separate dials.
You can use these functions as a stopwatch.
The stopwatch runs for 1 minute to 60 minutes. 
It has a large crown on the right side that serves additional functions.
It is the central knob to command the wristwatch.
Aside from a giant and thorny crown, the product comes with a cute little crown. The unit has six knobs (3 on the left and 3 on the right sides).
Besides, this Diesel watch has a beautiful design in the base area.
Big Daddy Diesel has a mineral crystal face. Compared to acrylic dial watches, they are less prone to scratches.
You will not have to be concerned about scratches and shatter. The glass is made of silica. Hence, it can handle considerable pressure and depth to ensure the longevity of the glass.
Plus, the watch surface is not highly reflective. You can comfortably glace at the watch even in sunny conditions. It doesn't need any anti-reflective coating.
This Diesel watch comes with a stainless steel case. It is resistant to corrosion, oxidation,  and rust.
Sweat, moisture, and even seawater will not affect its durability.
However, ensure to take care of the wristwatch to prevent tarnish issues properly. In addition, stainless steel material is anti-allergic, so it will be harmless to your body.
People who love a slightly heavy watch to get a masculine feel will love it. After all, it is harder and denser than aluminum material. The manufacturer used an eye-catchy surface finish to make it attractive too.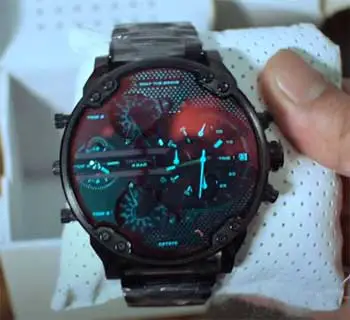 Big Daddy Diesel is a water-resistant watch.
You can submerge it in up to 100ft of water for 30 minutes.
Its 3 bar design ensures 30 meters depth of water or 3 atmospheres of pressure will not cause any harm to the wristwatch.
Hence, a small amount of rainwater or water splashing will not affect its durability.
However, don't use the limited waterproof and splash-proof for swimming and sauna. It can be a red flag situation for this unit.
What could've been better With Big Daddy Diesel?
 No doubt, Big Daddy Diesel is an excellent watch. Don't take it as the best watch. The following are common cons of this unit.
It is true that Big Daddy Diesel doesn't easily get scratched. But it is also true that you can't buff its glass. If the mineral glass has too many scratches, you have no option but to replace the entire glass.
Heavy-duty scratch removers will not be practical too.
However, regular care will prevent the scratches from being intense. Keep a soft cloth with you and wipe it regularly to protect it from dust and a dirty environment. It is best to keep the watch in the pocket when it can get scratched.
Not Highly Impact Resistant
This Diesel wristwatch can't take too much pressure or impact like other premium-based glass. The watch face may shatter fully from a significant amount of impact.
You may also see cracking issues if extreme pressure is created from one side of the watch.
But, regular usage will not result in any problems. Just avoid keeping any heavy loads on top of the watch. Always store it with the box in a safe place.
Not all men have bulky wrists. Big Daddy Diesel has a 57mm case, larger than regular watches. Unless your wrist size is 7.5 inches or larger, the watch may look odd on your hand.
Since it is a cheap watch, compatibility is an important aspect that you should not overlook at all.
In addition, the watch weighs around 5.2 Ounces. This might not be the best choice if you have a habit of wearing light watches.
You may feel uneasy while working with a relatively heavier wristwatch.
Final Words
It is better to go through some online Big Daddy Diesel reviews before purchasing it. You will get a better idea regarding the product quality and figure out the cons.
We have tried to share an unbiased and actual review of this wristwatch.
Big Daddy Diesel has a few flaws. But when you consider its outstanding design, handy features, and relatively lower price, it is worth trying. However, we still recommend you reconsider all its features before buying it.