It is always said, "Old is gold." Barrel bolt locks might be traditional, but the convenience and security they provide for keeping your home safe are unmatched.
However, you may not always have the scope of using a sliding bolt lock. So, what is the solution?
Is there any barrel bolt alternative? If yes, will it provide the similar functionality and safety you need? Read this post to figure out some best substitutes for this type of bolt lock.
You may become a fan of these door locks.
Barrel Bolt Substitutes to Lock Doors 
You already have a good idea of barrel bolt locks. But what locks should you use if not barrel bolt? If you have been planning to install a new lock for your home doors, here are some best alternatives of barrel bolts you can consider.
Doorknob Locks have a built-in locking system that can provide reliable security.
It is one of the most common locks we see in households. They look appealing. You can get them in different varieties.
This type of door lock has a round surface. It has no chance of grabbing your clothing and tearing it.
Installing them in bedrooms and living rooms will be more convenient since pets can't turn the door using their paws.
In addition, you can use this type of door to prevent kids from entering a particular room since toddlers can't turn the knob as easily as an adult can do.
One of the best alternative options is the J Lock. It has a "J" shape to keep the bolt retracted.
It is easy to use. Unlike traditional-based locks, it is harder to force open.
So, breaking or unlocking the door from outside will be tough.
Apart from that, this type of door lock is super simple to install. You will need only 5-7 minutes to install. Its wholly mortised structure makes it super strong and durable.
This type of lock is suitable for installing in various kinds of doors such as sliding, double, bi-folding, pivot, etc. They are mainly made of satin stainless steel to ensure good functionality and a locking system.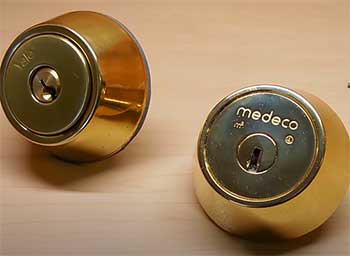 Deadbolts are more reliable to provide extreme security than many other locking systems.
Unless you have a key, you can't move the lock area of the deadlock into an open position.
People from outside can't enter the house forcibly. Instead of single-cylinder designs, choose double cylinders since they are a more secure option.
This type of door lock provides an extra tighter seal for door frames.
Steel, brass, and bronze are the common materials used to make deadbolts. This makes them super strong. Since the bolt of this locker doesn't have a round or angle end, you are less likely to keep your door unlocked when in a hurry.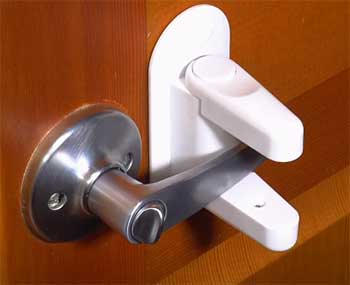 When it comes to maneuverability, door handles are among the top choices. They are super simple to use.
Their impressive functionality makes them a regular choice among many commercial buildings.
Unlike many other door locks, door levers have a stylish and modern appearance.
They are more practical since you can use your elbow to open them when your hands are busy.
Most people prefer to use them for narrow and glazed doors since these types of entries can't handle locks with severe cases. They are easy to open, so dogs and cats won't face hassles opening the door.
Many houses or apartments still use chain lock doors as they efficiently provide extra security. An intruder can't forcibly enter the house if your door has this type of lock.
Though they are not as strong as deadbolt locks, they are super simple to use.
You need to secure the lock by aligning with the door frame appropriately. Plus, installing it near the edge of the door area is crucial. Sliding the chain to the lock is necessary to keep the door closed,
This type of door lock can last for a long time since they are scratch-proof, corrosion-proof, and rust-proof. Please make sure the chain of the lock is made of heavy-duty materials so that they don't break easily.
Is Barrel Bolt Worth It?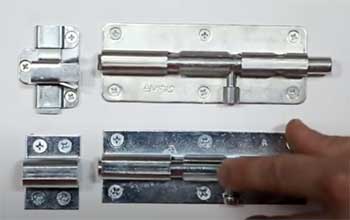 A barrel bolt has a simple locking system that allows your door to be secured from inside or outside.
Generally, it has two parts: a catch plate and a sliding metal bar.
When looking for a low-cost yet sturdy security solution, a barrel bolt can be an effective choice.
You can use them for most standard rooms, gates, stalls, and even bathroom doors.
They are super strong to ensure long-lasting durability even in hostile environments. They are made of different materials, and various types and designs are available.
However, properly installing them is necessary to avoid misalignment issues. You can even install them of your own since they need a quick and easy one-time installation.
Frequently Asked Questions (FAQ)
How Long Does Barrel Bolt Locks Last?
The lifespan of barrel bolts is immense. They can last as long as the door itself. In some cases, you may use another door if the old door becomes damaged.
What Is The Cost Of A Barrel Bolt Lock?
The price of a barrel bolt lock is pretty affordable. Their price can be anywhere from $2 to $10, depending on quality, design, materials, and brand.
What Is the Best Alternative For Barrel Bolt Locks?
You can use J bolt lock, deadbolt, doorknob locks, door lever locks, or chain locks as an alternative to barrel bolt locks.
Where Can You Use Barrel Bolt Locks?
Barrel bolt locks are perfect for using any household and apartment where you need a simple and secure locking system without investing much money.
Conclusion
So, which option appears to be the best barrel bolt alternative?
It generally depends on the type of door you have and the locking system you prefer. The five options we mentioned can provide decent security and protect your house from unwanted entry.
Hopefully, you have learned the possible substitutes you have if you don't want to install any barrel bolt locks. Thanks for reading!