A lot of people prefer making their own lamps. But if you want to skip a key material like styrene, things can get tricky. What can you use instead?
Wire, laminated paper, felt – the options are almost endless.
Whether you want to skip styrene for environmental reasons or creative ones, it will make your DIY-ing a little harder. Fortunately, there are a lot of options you can work with instead.
Here is a list of things you can use instead of styrene.
Styrene Alternatives You Can Use For Your Lampshade
Every DIY tutorial will tell you to use styrene as a fabric stiffener (if you're aiming for a fabric lampshade).
But styrenes aren't the healthiest option for the ecosystem, so a lot of people want a different option. Fortunately, you can find lots of alternatives if you turn your creative brain on.
The key here is to find things that can hold a shape. But that's just the base requirement. You'll need something that lets the light pass or at least directs it in one way.
There are lots of options you can use for this. Wireframing, laminated paper, and felt sheets are some of the most suitable alternatives for styrene.
Let's see how you can tweak them and make them work.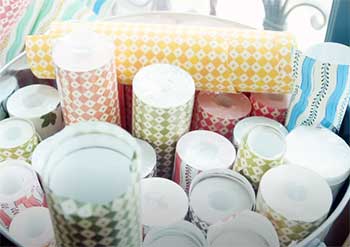 Clever, cheap, and fully customizable?
Yes, you heard that right.
The laminated paper will give you pretty much everything you want without breaking the bank.
All you have to do is choose the paper you want.
Laminated paper lampshades will make your light more directed.
But since the paper (and the laminating sheet) is opaque, you'll still get a little light leak.
If you want to tone that down, you can get an extra layer of parchment paper. Or you can just wrap an extra layer over the outside layer.
The best thing about laminated paper structures is that they're really easy to make. You'll have to start by measuring the necessary size and choosing the pattern you want. Once you're done, pick your paper and cut it down to match the size.
Laminate the paper sheet and wrap it around the round lampshade structure. It is better to have a little extra laminating paper on all sides. This will make gluing it to the structure easier. you can trim the extra down later (if you have any).
The biggest plus of this structure is its flexibility. If you want a round shade structure, you can easily bend it and cover the whole area.
If you're going for a square shade, you'll either have to use multiple panels or wires to keep the frame up.
Another big plus is the versatility. You can easily go with your favorite patterned paper, map, or even book pages. You can take it up a notch by adding a fabric layer outside.
The only problem is, laminating paper isn't heat resistant. So you'll either have to spray heat-resisting liquid all over the frame or you'll have to switch to LED bulbs.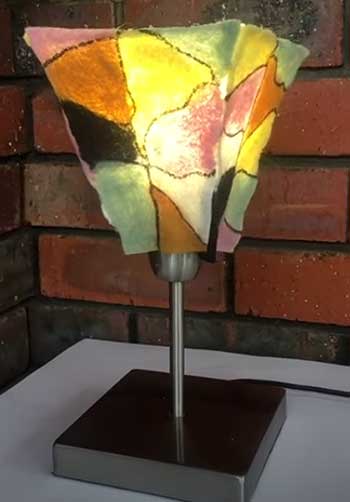 Felt sheets are another great options for lampshades.
They're slightly limiting in a sense but there's always room for creativity.
A Felt sheet is the better option if you want your lamp light to be directed.
When it comes to eco-friendly materials, felt will be pretty high on the list.
Felt is also really easy to work with and you won't need anything extra.
All you need are felt sheets, a pair of scissors, a hot glue gun, and your lampshade round structures.
Measure how many sheets you'll need to cover the whole lampshade area and how high it needs to be. Keep a few centimeters of extra height on both ends and cut the piece.
Hot glue it to the top and bottom structure and you're done. Trim the excess sheet edges and fit the bulb in.
The best part of the felt sheet structure is its design options. You can cut the sheets in any shape you like.
Butterflies, tulips, and lotus flowers are some common shapes for felt lamps. You can also puncture holes on the sheet to make your lamp more interesting.
You're probably thinking about the round top and bottom shape of the lampshade structure.
Yes, that can be part of the framing but that's not all.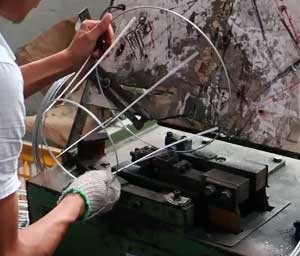 You can model and warp wires to make any kind of lampshade structure you want.
This is the least limiting option on this list.
If you're set on using fabric for your lampshade (especially cotton ones) then this will give you full customization liberty.
You'll need pliers, a hot glue gun, and wires to make this structure work. Thinner wires are easier to warp so that's better for beginners.
What you'll have to do is connect the top and bottom round structures using smaller pieces of wire. Prop both pieces on a stand or other structure that lets you work from any angle.
Measure your lampshade length. Keep 2-3 cm wire extra on each side and cut the wire according to the measured length.
There's no set rule of how many pieces you'll need. If you're using thinner wires, you might need more pieces to hold the structure.
If you're using thicker wires, you might need less. Either way, you'll need at least 4 pieces of wires.
Use the pliers to tightly wrap both ends of the wire pieces to the round structure. Use the hot glue gun to attach the fabric to the structure and you're done.
How the light shows through will depend on how dense the structure is. If the structure only uses the minimum amount of wireframes, the light will spread more as the fabric will work as the filter.
If the structure is dense, the light will spread less and be more directed.
Is Styrene The Best Stiffening Option?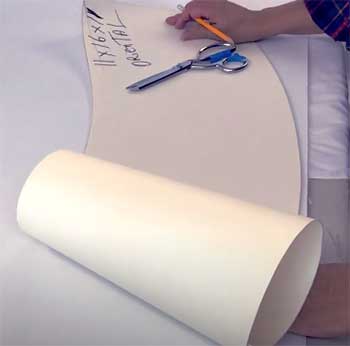 You know some awesome alternatives now, but what about the OG styrene?
Are they the best stiffening option you can get?
The answer is yes and no. styrene is convenient, easy to find, and easy to size.
That's about it. But the alternatives to styrene are pretty much the same minus the convenience part.
Most of the time styrene is self-adhesive but the alternatives aren't.
Other than that, styrene isn't always available everywhere too. Sometimes they're sold under different names so chances are you miss out on it anyways.
So, is styrene an amazing stiffener? Yes, no doubt. But is it unskippable? That depends completely on your personal preference. If you can work with alternatives, you won't really need them.
But if you want to keep things convenient, then styrene is probably your ride-or-die.
Frequently Asked Questions (FAQs)
Here are a bunch of questions people usually ask about styrene and lampshades in general.
Do you need styrene to make a lampshade?
Styrene is a good stiffener, but you don't really need it. There are other alternatives you can easily work with.
What material is safe for lampshades?
Tight-weave and lightweight materials are the best for lampshades. You can go for cotton, cotton drills, linen, or polyester.
Can I use any material to make a lampshade?
Yes and no. for the inner lining, you have to use heat-resisting materials that won't melt off. The outer layer has to be breathable for the spread. But if you're using LED bulbs, you can pick less heat-resistant materials for the inner lining.
What type of plastic is used for lamp shades?
Some common plastics used for lampshades are PVC, PET, LDPE, PP, and HDPE.
Final Verdict
Finding the perfect lampshade is hard, but that doesn't matter if you can get down for a little DIY. Styrene might be a key element, but you can totally switch it up.
You already have a list of alternatives to styrene for lampshades here, feel free to explore and experiment more.