Alta Windows Fashion and Hunter Douglas shades' comparison gives you stiff competition. They both comprise pretty similar features, making it hard to distinguish between them.
But we've found some notable differences in the diverse battery shell life options for Hunter Douglas, which Alta Windows doesn't have. Also, the sound absorption power is different too.
Want to know more about them? Then stick by the end to find out more about it-
A Quick Comparison Table
| | | |
| --- | --- | --- |
| Specifications | Alta Window Fashions | Hunter Douglas Shades |
| Energy Efficient | Excellent | Pretty Good |
| Motorization | Has simple remote control, smart controller, and NEO smart blinds app. | It has a PowerView app, remote, and gateway. Enjoy voice assistants too. |
| Batteries | Come with rechargeable batteries | Comes up with a rechargeable Wand, Dual charging station, 16 Shade DC power player, 18V DC power supply, single charger, internal rechargeable battery |
| Sound Absorption | Moderate | Higher |
| Pricing | Lower | Higher |
Differences Between Alta Windows Fashion And Hunter Douglas Shades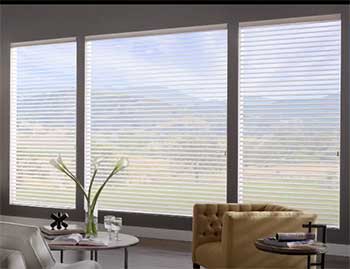 Alta Windows Fashion lets you enjoy true energy efficiency through their effective window coverings.
It can keep interiors warmer and cooler according to weather preference.
Through their insulating cell construction, which refrains the outside air.
Their fabrics can give you an outside view while keeping you safe from harmful UV rays.
Observe your energy bills drop while you align any Alta product with the automation system.
Whereas Hunter Douglas lets you live comfortably meanwhile saves energy through their shades.
According to the season, these better energy-efficient shades raise and lower your shade so that room remains warm or cooler. But it doesn't have any UV rays protection.
Also, there is no claim about the energy bills drop, unlike Alta Windows fashion.
Nothing in this digital arena is operated without a motorized form. The same goes for both the company's shades.
Alta has a simple remote and smart controller that lets you control the shades.
Moreover, the voice controller operation lets you enjoy the power of your voice as a medium to open and close the shades.
Also, the NEO smart blinds app gives you the power to handle it with just a click.
However, the hunter Douglas shades have a PowerView app, remote, gateway, and voice assistants. That increases the convenience as you can easily take over your shades with a button press.
Tapping on your phone or through your voice using the Powerview app also increases your privacy. Close it just when needed.
Moreover, you can set times that automatically raise and lower your shades. That will enhance your home's entire outlook too.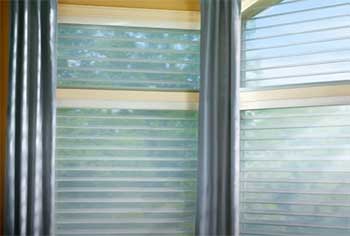 Alta Fashion Windows has made managing your shades easier through its motorization system.
Besides being conscious about your motorization, they care about your battery system too!
They have aligned batteries which are rechargeable batteries.
Moreover, the batteries of Hunter Douglas shades have wide varieties. You can get the rechargeable battery wand, whose shell life is 1 year which is also environmentally friendly.
Plus, the dual charging station lets you charge two wands simultaneously. If you've larger projects having a 16-shade DC power supply would be ideal if you've larger projects.
Last but not least, it has a single extra charger, internal rechargeable battery, etc., ensuring your authority over shade 24/7.
Due to the close-packed cellular fabric of Alta Window Fashions shades, it refrains the sound from penetrating your house. That also makes your room cozy and comfortable.
With diverse color choices, Hunter Douglas shades can form a quieter, relaxing room by absorbing sound and deducting the outside noise from entering your room.
When buying shades, everyone wants to invest in premium quality. But what if both of the brand's shades share similar features with few differences?
The situation gets quite puzzling, correct? Well, if you're tight on budget, Alta Windows Fashion, with its moderate pricing, can save you. It's a win-win situation as you get premium quality at lower pricing with fewer features!
However, if you don't want to compromise on features and want your shades to have all distinctive features. You may have to invest around $20-$36 per sq foot for most blinds, which means around $300 for each window.
Which Shade Is Ideal For You?
Let's wrap it up for you! Which shade is perfect? How to figure it out? Well, let's look at the chart once more.
Distinguishing between the two best shades is quite challenging, but if you want to have a long-lasting battery shelf with diverse options, Hunter Douglas can be the one.
They have so much diversity, allowing you to enjoy the motorized system without any obstacles. Plus, one added benefit is the warranty of 1 year makes your task easier.
Along with this, the sound absorption power of Hunter Douglas shade is relatively higher than Alta windows fashion. If you enjoy a cozy sound-less environment, this shade can be an added protection.
Unfortunately, Hunter Douglas Shade's price is quite higher than Alta Windows Fashion. But just like we've mentioned earlier, if your priority demands so, go for it. But if not, Alta Windows Fashion can be a wonderful substitute within a lower range.
Frequently Asked Questions (FAQ)
Is Alta the same as Hunter Douglas?
Alta is not the same as Hunter Douglas. The features of both of them, to a large extent, are pretty similar. But there are some differences in characteristics like batteries, sound absorption quality, etc.
Are Alta blinds made by Hunter Douglas?
Alta blinds is a subsidiary of the Hunter Douglas family of brands. These blinds stand in the top standard, where you can enjoy custom shades manufactured with superior quality at reasonable prices.
Which brand of window shades is the best?
Hunter Douglas ensures high-quality products with a solid warranty same goes for Alta blinds too. Choosing the best is quite tricky. But your preference in terms of features will help you to have the answer.
What are blinds similar to Hunter Douglas?
Hunter Douglas silhouette shades are similar to blindsgalore sheer shades. The Duette Shades is again similar to the Bali diamond cell and Graber crystal pleat.
Conclusion
In conclusion, Alta window fashions and Hunter Douglas comparison, after seeing the features, we can say Hunter Douglas has far better features than Alta Window Fashions.
However, the detailed discussion of Alta Windows Fashion Vs. Hunter Douglas Shades can help you choose the best one just according to what your preference fits. Grab the perfect shade and get a premium outlook of your room!