If you're in the market for stylish, modern furniture at an affordable price point, you've likely come across popular online retailers AllModern and Article. Both companies sell a wide range of contemporary furniture and decor directly to consumers through their user-friendly websites.
But with so many overlapping product categories and similar value propositions, how do you decide which one is better for your needs?
In this comprehensive guide, we'll compare and contrast AllModern and Article to highlight the key differences between these two e-commerce furniture giants.
A Brief Comparison Table
| | | |
| --- | --- | --- |
| Category | AllModern | Article |
| Product Selection | Massive catalog with over 15,000 items across all styles | Boutique collection of around 300 minimalist modern pieces |
| Product Design | In-house and external designers | In-house team designs all products |
| Quality | Good for the price but varies by item | Consistent quality due to direct oversight |
| Website Experience | Furniture wonderland organized by styles | Spotlights brand minimalist aesthetic |
| Ordering & Delivery | Free shipping on everything; white glove delivery available | Shipping costs included; in-room assembly offered |
| Warehouses | Network across US and Canada | Single warehouse in Canada |
| Pricing | Budget to luxury across wide selection | Mid-tier direct-to-consumer value pricing |
| Sustainability | Large scale initiatives as Wayfair brand | Supply chain control enables eco-friendly production |
| Reviews | Very positive with some quality inconsistencies | Extremely positive feedback |
| Returns | 1 year free returns; 1 year warranty | 100-day free returns; 3-year warranty |
Overview of AllModern and Article
First, let's take a quick look at the origins and business models of both brands.
AllModern Background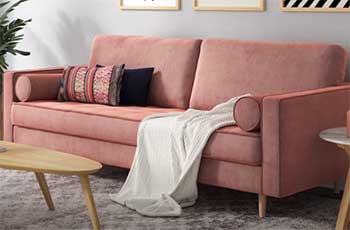 AllModern launched in 2007 as a subsidiary of Wayfair, the largest online furniture and home goods retailer in the world.
As part of the Wayfair family of brands, AllModern focuses on selling modern, mid-century, and contemporary style furniture and decor at accessible price points.
Some key facts about AllModern:
Extremely large catalog with over 15,000 items across furniture, lighting, rugs, decor and more
Mass-market appeal with price points from budget to luxe
Frequent sales and special promo offers
In-house designers along with name brand partnerships
Ships from a network of warehouses across the US and Canada
Article Background
Article launched in 2013 as a digitally native vertical brand specializing in modern, design-forward furniture. They are best known for slimmed-down silhouettes and a minimalist aesthetic.
Some Article fast facts:
Boutique feel with a core collection of around 300 furniture pieces
Direct-to-consumer business model focused on value and simplicity
Small in-house design team creates every product from scratch
Strategic partnerships with trusted manufacturers
Ships primarily from their single warehouse in Canada
Key Differences Between AllModern And Article Furniture
Now that you have a sense of each brand's origins and ethos, let's do a detailed comparison across some of the key purchasing factors for most furniture shoppers.
Product Selection and Quality
One of the biggest differences between AllModern and Article is the size and scope of their product catalogs.
AllModern's Massive Product Range
As you'd expect from a retailer owned by Wayfair, AllModern has an absolutely massive inventory spanning every room and style. We're talking over 15,000 items across furniture, lighting, rugs, decor, kitchenware, bedding and bath. Impressively, most products are eligible for free shipping.
They have everything from ornate traditional dining sets to retro-inspired media consoles to posh upholstered beds. Name a furniture category or style, and AllModern likely carries multiple options. The sheer selection is incredible.
While not all products are created in-house, AllModern does work with its own team of designers to create exclusive furniture lines and collaborations only available through Wayfair brands. These in-house collections focus on elevated basics and contemporary silhouettes, similar to Article's aesthetic.
Article's Curated Approach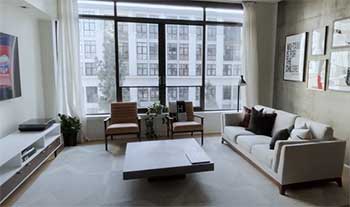 On the other end of the spectrum, Article offers a carefully curated collection of around 300 modern furniture pieces for every room.
As a direct-to-consumer brand, Article employs an in-house team of designers to create every product from scratch.
The focus is on minimalist, utilitarian designs with slim silhouettes and natural, eco-friendly materials.
You won't find the overwhelming array of styles and encyclopedic inventory as AllModern. Article sticks to its minimalist modern aesthetic. But the narrow focus allows them to intimately control and perfect every furniture line.
And new products are continuously added based on client feedback and market demand.
In terms of quality and construction, both AllModern and Article aim for the sweet spot between affordability, design, and everyday durability. However, there are some differences in manufacturing methods.
For its house brands, Article works directly with factories around the globe to craft pieces to their exact specifications. Having a hand in every step of the process allows Article to control quality and maintain their pared-back aesthetic.
Wood frames are kiln-dried for stability, fabrics are tested for durability, and all products are assembled by hand.
AllModern sources its exclusive branded collections from third-party manufacturers under Wayfair's oversight for quality assurance. Products undergo multi-point inspections and detailed testing protocols focused on durability, safety and dimensional stability.
Wayfair is upfront about working with global partners, stating pieces are "thoughtfully manufactured to our standards."
For non- proprietary products, quality can vary since both brands sell furniture from third party vendors. But you can feel confident buying the in-house collections from both Article and AllModern. Just note that Article's direct involvement may allow for a more consistent minimalist look and feel.
Shopping Experience and Ordering
Beyond just products, AllModern and Article want to reimagine the entire furniture buying journey. Here's how the websites and ordering processes compare.
AllModern's Everything Furniture Store
The AllModern website feels like walking into a huge furniture showroom with different collections and styles curated into lifestyle vignettes. You can browse by category, designer collections, or room. Special curations like "Small Space Solutions" and "Kid-Friendly Furniture" make it easy to shop with purpose.
AllModern also incorporates user reviews and detailed product descriptions including dimensions, materials and care instructions. There are preview videos for select big-ticket items like sectionals and dining sets to see pieces in 360-degree detail.
Ordering is simple – just add items to your cart, choose a delivery date, and check out. AllModern offers free shipping on their entire catalog. White glove delivery and assembly services are available for an added fee.
Article's Streamlined Spotlight on Design
Article's site puts the spotlight squarely on their products and minimalist vibe. Bright, airy lifestyle imagery showcases how the furnishings can work in real spaces.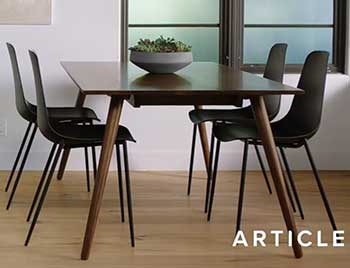 The limited product selection makes it easy to scroll through the entire furniture offer.
Detailed materials information and dimensions help you find the right piece for your space.
Assembly videos provide visual instructions for putting pieces together.
Article simplifies ordering with fixed pricing that includes shipping.
Date your delivery, add to cart, and check out. Standard delivery is free for over $999 orders in Canada and the contiguous US. Article also offers in-room assembly for most large items for a fee.
Overall, both brands aim to deconstruct furniture buying by moving the process online. AllModern excels at selection and curating lifestyle looks. Article puts design front and center in a straightforward shopping experience focused solely on their own products.
Shipping Logistics
One of the biggest headaches with buying bulky furniture is navigating the delivery and shipping process. AllModern and Article both aim to make this as smooth as possible with nationwide distribution networks. However, there are some distinct differences in their fulfillment operations.
AllModern's Distributed Warehouses
With its Wayfair backing, AllModern has a network of warehouses and fulfillment centers positioned across the US and Canada. This allows for competitive transit times, typically 3-10 business days depending on your location. Delivery is free for the entire catalog thanks to their distribution infrastructure.
White glove in-home delivery is available for a fee that includes room of choice placement, assembly, and removal of packaging materials.
Article's Central Warehouse
Article fulfills orders from a single distribution center in Canada. Standard delivery times run 2-9 days for most US and Canadian locations. Like AllModern, shipping is free over a order minimum that varies by country.
For large items like sofas, tables and storage, Article offers in-home assembly by their delivery partners. Other items come ready for quick DIY assembly. The assembly service fee averages around $100 depending on your location.
Both brands have put serious thought into making delivery as turnkey as possible. Article's central fulfillment model allows for stringent quality control and minimal packaging waste. AllModern's distributed warehouses enable speedy shipping across their vast catalog.
Pricing and Sales
When it comes to pricing, both brands position themselves as accessible modern furniture stores. However, AllModern's huge product range incorporates value buys along with luxury price points. Article focuses exclusively on the middle of the market.
AllModern's Range of Price Points
As you'd expect from a mass retailer like Wayfair, AllModern covers a huge spectrum of price points from budget finds to high-end investments. Entry-level sofas start around $500, while premium Italian leather sectionals can run over $4,000.
In between, you'll find lots of sofa options in the $1,000 to $2,000 range. The same holds true across tables, storage, lighting, and decor – a little something for every budget. Frequent sales and special offers up to 80% off make high-end furniture more attainable.
Article takes a less-is-more approach to their collection and price tags. You won't find ultra-high-end or ultra-budget furniture here. The sweet spot is well-made contemporary pieces priced accessibly thanks to their direct to consumer model.
Sofas run from $999 to around $3,000. Storage like dressers and entertainment units fall between $500 to $1,200. Accent chairs are priced from $500 to $900.
Article runs limited promotions during seasonal sale events. And prices already include shipping. With lower overhead costs, Article can offer significant value at the middle tier price point.
If you're working with a flexible furniture budget, AllModern's huge spectrum has appealing options at every level. Article's pricing consistently hits that desirable mainstream value range.
Sustainability and Manufacturing Ethics
With consumers increasingly conscious of sustainable sourcing and ethical production methods, this consideration may help tip your decision between brands.
AllModern's Evolving Approach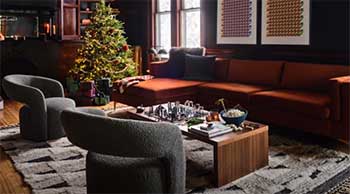 As part of Wayfair, AllModern benefits from the larger company's significant investment in evolving their supply chains towards sustainability.
Wayfair has developed a strict supplier code of conduct focused on labor practices, ethics, and environmental impact.
They publish an annual sustainability report tracking initiatives like responsible sourcing, reduced carbon emissions from delivery, and conservation of natural resources.
It's clear sustainability is a priority for leadership. And efforts across the entire Wayfair enterprise trickle down to brands like AllModern. But with a global supply chain and focus on market share over margins, transparency and truly eco-friendly production remains a work in progress.
Article's "Made Mindfully" Mission
Sustainable design and production has been central to Article's brand identity from day one. Their "Made Mindfully" mission focuses on sourcing eco-friendly materials like FSC-certified wood and water-based adhesives, while eliminating harmful chemicals.
Production partners must adhere to safe labor practices and worker protections. Even packaging aims to minimize waste.
Article uses their direct involvement in the design process to select earth-friendly materials and make production more eco-friendly from start to finish. As a smaller company focused solely on their own products, Article's supply chain oversight enables truly sustainable offerings today.
Reviews From Customers
One of the great benefits of online furniture shopping is learning from fellow customers' experiences before you buy. Here's an overview of feedback for both brands.
With a much longer history and broader customer base, AllModern has over 575,000 reviews averaging 4.2 out of 5 stars. The most popular AllModern furniture categories like sofas, coffee tables, dressers and platform beds all maintain average ratings above 4 stars, indicating widespread customer satisfaction.
Negative feedback most commonly focuses on damaged deliveries, trouble with assembly, and products feeling cheaper in person than pictured. This is not surprising given the massive variety of items from different manufacturers. Yet most issues seem quickly resolved with responsive customer service.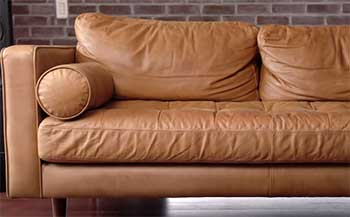 Since launching in 2013, Article has racked up over 30,000 reviews that average 4.8 out of 5 stars – an impressive mark.
The most purchased products like the Sven sofa, Timber dining table and Amal media console all maintain perfect 5-star averages.
Critical feedback is limited and centered on occasional shipping delays or damages.
Some also feel the furniture costs more than fast furniture brands without matching the luxury quality of high-end stores. But overall, Article buyers seem extremely satisfied with the beautiful, affordable pieces.
Return Policies and Warranties
There's nothing worse than receiving a damaged or defective piece of furniture that you can't easily send back. Here is how AllModern and Article handle returns and warranty claims.
AllModern offers free returns on furniture and decor for one year after delivery. If you need to send an item back, contact customer service to arrange pickup or reimbursement of return shipping fees. Refunds are provided once the return is processed at the warehouse.
The warranty covers manufacturer defects for 1 year from delivery. If an issue arises within 3 years, AllModern will assist with repair or replacing damaged parts. Get in touch with customer service right away if your item is defective for quick resolution.
Article also provides a 100-day free return window along with a 3-year warranty protecting against manufacturing defects. Contact their support team to initiate a return or report a warranty issue.
Following inspection at their warehouse, Article will initiate repairs or replacement parts, or provide a full refund including initial shipping costs. The warranty does not cover normal wear and tear or improper assembly and usage.
Bottom line – both brands offer reassuring return windows and warranty coverage. Article's 3-year policy bests AllModern's 1 year guarantee. But Wayfair has the scale to readily assist AllModern customers with exchanges, repairs or replacements as needed.
In Summary: Key Differences Between AllModern And Article
Catalog Size: AllModern has over 15,000 furniture and decor items across a huge range of styles. Article takes a boutique approach with 300 carefully curated pieces.
Product Design: AllModern relies on in-house and third party designers. Article's in-house team designs every product from scratch.
Quality: Both offer solid quality at reasonable price points. Article's direct involvement may allow for more design consistency.
Website Experience: AllModern is a furniture wonderland with lifestyle category browsing. Article spotlights their collections in a straightforward e-commerce site.
Ordering and Delivery: AllModern provides free shipping on everything with optional white glove delivery. Article incorporates shipping in prices and offers assembly.
Warehouse Location: AllModern's network allows faster shipping times to more zip codes. Article fulfills all orders from their singlewarehouse.
Pricing: AllModern has budget to luxury price points. Article focuses on substantial value at the mid-tier.
Sustainability: AllModern benefits from Wayfair's large scale initiatives. Article's small supply chain enables eco-friendly end-to-end production.
Reviews: Both score well, with Article edging out AllModern with outstanding feedback.
Returns: Each offers 100-day returns and at least a 1-year warranty. Article edges out with a 3-year warranty period.
Frequently Asked Questions (FAQ)
Are article tables good quality?
Yes, Article tables are generally high quality and made to last. As a digitally native furniture brand, Article oversees the end-to-end design and manufacturing process for all their products. Table frames are constructed from solid wood or durable engineered woods like bamboo and acacia. Top materials include natural walnut wood or scratch-resistant tempered glass. Article also utilizes premium quality veneers and finishes. Plus, all joints are reinforced with wood glue and metal fasteners for stability. Each table undergoes rigorous quality testing with weight loading and use simulations to ensure long-term durability. Many reviewers praise the stability and craftsmanship of Article's tables.
Is Article a real furniture company?
Yes, Article is a real furniture company founded in 2013 that sells their products exclusively online. Article employs an in-house team of designers, product developers and engineers to conceptualize and create each furnishing. While manufacturing takes place in dedicated partner factories around the globe, Article oversees every step of production to ensure consistent quality. Article's website allows you to order furniture directly from the brand and coordinate delivery through their logistics partners – no need for a physical showroom. As a web-first company with an integrated supply chain, Article provides a convenient alternative to traditional furniture shopping.
Is Joybird the same as article?
No, Joybird and Article are different direct-to-consumer furniture brands that both sell online. Joybird was founded in 2014 and offers artisanal custom-made furniture you can personalize to your taste. In contrast, Article launched in 2013 and sells curated ready-to-ship furniture optimized for fast delivery. While both focus on contemporary designs and sell directly through their own websites, Joybird is known for customized upholstered furniture while Article offers a broader mix of decor and focuses more on flexible in-stock options. Their business models, supply chains and product focus vary, though they appeal to similar modern minimalist tastes.
Who makes article furniture?
Article furniture is designed in-house by the brand's team of product designers and engineers. While they conceptualize and engineer each piece, Article partners with dedicated manufacturing facilities in various locations to fabricate and assemble their products. Article oversees production quality and process at these purpose-built factories. Their sofa frames, for example, are made in North America. Other wood furnishings are crafted in factories across Southeast Asia and Eastern Europe. Select suppliers specialize in stainless steel, glass and particular fabrication techniques. Article leverages global partnerships to make production efficient while maintaining full oversight for consistency with their brand vision. The direct model allows Article to deliver high quality furniture at affordable prices by controlling every aspect of development while optimizing manufacturing.
Closing Remarks
So which online furniture company reigns supreme? The right choice comes down to your specific needs and preferences.
AllModern is the perfect one-stop furniture and decor shop if you value selection, styles for any taste, and discounted deals. Their expansive inventory and distribution network get your order delivered fast.
Opt for Article if you know exactly what kind of minimalist modern furniture you want designed in-house for consistent quality. Their streamlined selection eliminates choice paralysis, and bundled pricing simplifies buying.
Either brand is a savvy choice for contemporary furniture that doesn't sacrifice style or quality for the convenience of online ordering and delivery. Let your personal priorities and decorating style steer you to the best fit.
Whichever you choose, you can feel confident skipping the furniture store crowds and letting these e-commerce innovators deliver your dream living space to your door.