We rely highly on tools or wood jointers to create perfectly flat surfaces and edges of cupped or hewed woods. For that, two of the most recognized brands, Rikon and Wahuda currently a focus of attention for most people in the market.
The main difference between their jointers is that Rikon gives you five years of warranty, and Wahuda only comes with two years. Both have many similarities, but Wahuda wins in providing more models.
Also, Wahuda claims to have a higher customer rating than Rikon.
A Quick Comparison Table
| | | |
| --- | --- | --- |
| Specifications | Rikon 8 Wood Jointer | Wahuda 8 Wood Jointer |
| Manufactured and Sold By | Rockler and Woodcraft | Direct From Manufacturer |
| Customer Rating | Lower | Higher |
| Cutter Style | 6-row helical cutter head style with 16 two-sided carbide inserts | The spiral cutter head has 4-sided carbide inserts |
| Beds | Aluminum Made or Steel Made | Cast iron |
| Motor Speed | 12000 RPM | 12000 RPM |
| Warranty | up to 5 years of warranty | up to 2 years of warranty |
| Portability | Comes with 57.9 pounds. weight | Comes with 49 lbs. weight |
| Options Available | only the 8-inch option is available | 6 inches, 10 inches, and 8-inch jointers |
| Versatility | Provides tilting from 45 to 90 degrees | provides tilting from tilts from 90 &135​° for ​versatility. |
Key Comparison Between Rikon 8 Inches Jointer And Wahuda 8 Inches Jointer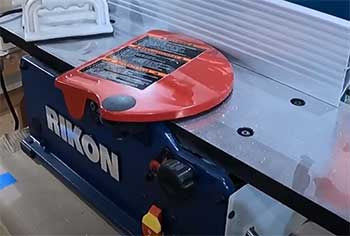 If you buy a wood jointer that can convert cupped and highly out of shaped woods into flat and smooth surfaces, you might have to consider the Rikon or Wahuda Jointer.
These machines work so lovely in providing the desired shapes of wood you are looking for.
Whether you have a small or large shop, you can take advantage of these jointers and make your work quicker and hassle-free.
However, sometimes, it's quite hard to compare jointers from these brands because both 8 inches models, when compared, leave most similarities.
Still, one of the highly known differences between these jointers is, Wahuda comes directly from the manufacturer. No middle brands or other people are impacting the sale.
On the other hand, you can have Rikon jointer from various places like Rockler or Woodcraft.
At Amazon, it is being sold by the Yellowhammer tool works. This reason could specify the costs and amount of money you will be paying.
Based on various online store purchases and customer reviews, people love Wahuda more than Rikon.
You can see a variable difference between the rating of these two brands' products when you compare them on Amazon.
Where Rikon 8-inch jointer has only 90 reviews, Wahuda has more than 300 positive reviews. And at various community forums, Wahuda is discussed more than Rikon.
Therefore, we can say that Wahuda is more prevalent among people than Rikon jointer.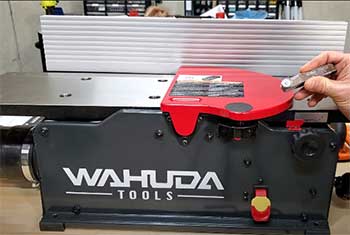 Rikon Jointer is comparatively sharper and provides faster working as it comes with a 6-row helical cutter.
Such a cutter is embedded with 16-two-sided carbide inserts that cut more and make those surfaces smoother and even better.
However, you'll find the Wahuda has only a four sides carbide insert with a spiracle cutter.
Both perform a decent job, but I would have to say that Rikon is a little stronger at cutting than Wahuda.
There is also a difference between the construction of these materials. Where Wahuda is made out of cast iron, Rikon is made with either Aluminum or Stainless Steel.
Both are durable, but I have to say that Rikon is highly protected against Rust and Debris. But cast iron may not stay that durable in quality or longer working.
There is no difference between the speeds of Motors in both jointers. It doesn't matter whether you go with Wahuda or Rikon; both have motors working at the speed of 1200 RPM.
Such speed cuts or make wooden surfaces smoother even faster.
Now, there comes a significant difference between both jointers, and it likely gives you a reason for which one to trust most.
Rikon gives you five years of warranty over its jointer, promising faster customer support and fixing or returns.
At the same time, Wahuda gives you only two years of warranty. With this, you'll get the idea as to which side you feel safer.
Compared to Wahuda, Rikon Jointer is a little less portable than Wahuda. The reason is the difference between the weights of both jointers.
You can find a Rikon 8-inch jointer with 57.9 pounds weight. On the other hand, you will find the Wahuda with only 49 pounds weight.
It helps you consider which side would be more portable.
You will always find a total of three jointer options when you'll browse the Wahuda Jointers. It comes with an 8-inch model, a 10-inch model, and a 6-inch model, depending on your most streamlined desires.
Compared to that, Rikon comes with only an 8-inch jointer. It means you'll have fewer choices to make at this brand. Here is a nice review of it for you.
What do you think will be more versatile between these two wood jointers? Well, I'd always go with Rikon because, for smoother cuttings, it tilts with an angle ranging from 45 degrees to 90 degrees.
But Wahuda can be used for more extensive operations, requiring a tilting angle of 90 to 135 degrees.
Both seem pretty versatile in their operations. But again, it depends on which ones become more comfortable at work.
Which Jointer Is Better To Consider?
The selection could be a little tricky with either jointer when both seem great at the jobs they are assigned to perform.
However, my consideration will be Rikon's jointer. Because it comes with five years non-matching warranty with Wahuda.
The jointer is stainless steel that stays durable for extended periods. But if you are happy with Wahuda for any reason, there will be no consequences. You will still be on the safer side.
Wrapping Up
A jointer at your wood-cutting workstation is worth it because it helps you perform several kinds of wood-cutting and fixing jobs. However, between Rikon and Wahuda Jointer, deciding which suits your daily jobs best could be hard.
Most people recommend Wahuda because it can be used for more extensive operations. But I recommend Rikon with its more warranty period and solid construction!